Tropical Storm Grace pounds Caribbean with heavy rain, gusty winds
Storm forecast to become hurricane by Wednesday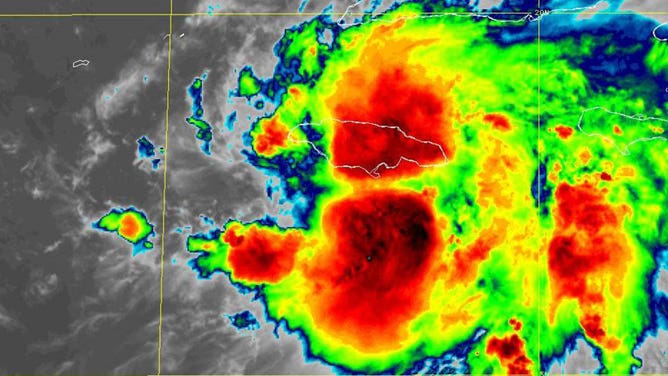 Tropical Storm Grace continued its march through the Caribbean on Tuesday as the islands were battered with high winds and heavy rain.
According to the National Hurricane Center as of 11 a.m. Eastern, Grace was centered about 75 miles east of Montego Bay, Jamaica, and about 295 miles east-southeast of Grand Cayman. The storm had winds of 50 mph and was moving west at 15 mph.
Tropical storm warnings are up for Jamaica, parts of Cuba and the Cayman Islands. Hurricane watches have been issued for parts of Mexico's Yucatan Peninsula.
What's happening now?
The NHC said Grace is producing tropical storm conditions in Jamaica and the Cayman Islands on Tuesday, including strong winds and 3 to 6 inches of rain. Up to 10 inches of rain could fall in isolated spots, the NHC said. Flash flooding is possible.
Haiti, recently rocked by a massive earthquake that killed more than 1,000 people, has also been slammed with tropical storm conditions from Grace. According to the NHC, another 2 to 4 inches of rain is expected Tuesday, with some places receiving as much as 15 inches. Flash flooding and mudslides are possible.
Where is Grace headed?
Grace is expected to reach hurricane strength by Wednesday morning as it moves west of the Cayman Islands and eyes Mexico. The storm is forecast to slam into the Yucatan Peninsula as a Category 1 hurricane late Wednesday or early Thursday.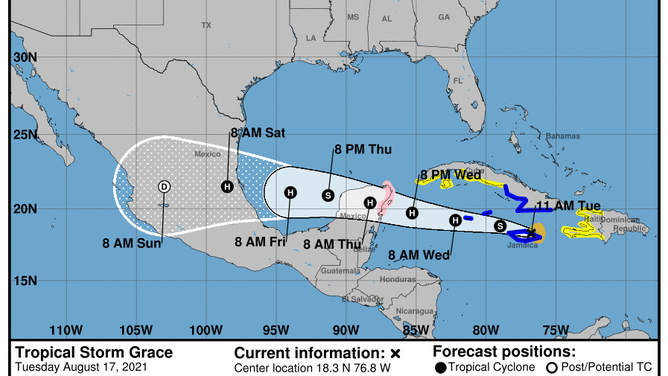 Grace is forecast to weaken as it moves over land and emerge in the Gulf of Mexico as a tropical storm Thursday night. 
From there, Grace is forecast to regain hurricane strength before heading for the Central Gulf Coast of Mexico, making yet another landfall sometime late Friday or early Saturday.