Tropical Depression 20 forms in Atlantic as tropics remain active
A hurricane, a tropical depression and two other areas are being monitored in the Atlantic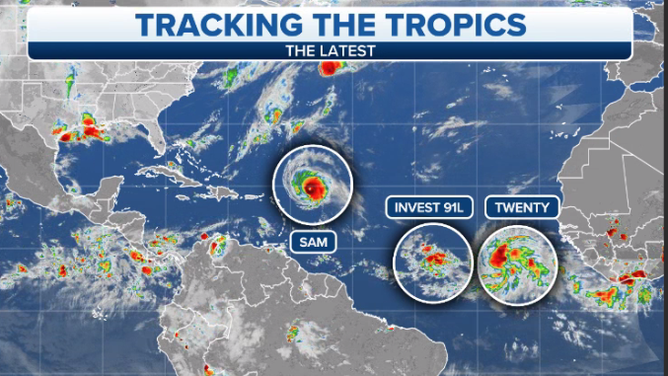 Forecasters at the National Hurricane Center continue to have their hands full Wednesday. Not only are they watching a powerful Hurricane Sam, but Tropical Depression Twenty formed Wednesday morning, and they are also monitoring two other areas for potential development.
Here's what you need to know about all four systems being tracked this week.
Tropical Depression Twenty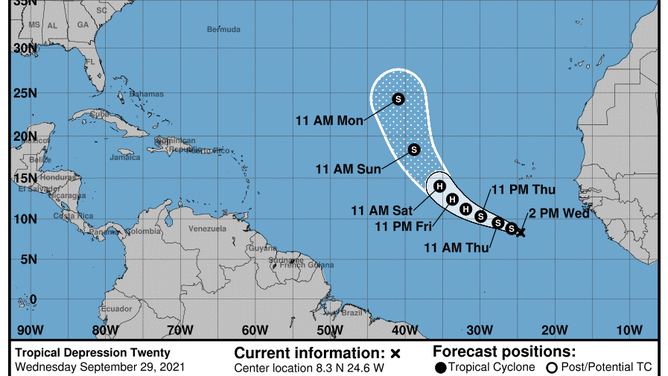 Tropical Depression Twenty formed over the far eastern tropical Atlantic on Wednesday morning.
As of the 11 a.m. Eastern advisory, the newly formed depression was located more than 500 miles south of the Cabo Verde Islands and was moving west-northwestward at 14 mph. It's expected to continue on a west-northwesterly path over the next few days before turning more northward this weekend.
The tropical depression is predicted to become a tropical storm Wednesday night and a hurricane by the end of this week, receiving the name Victor.
This system is currently no threat to any land areas, as it's likely to remain over the open waters of the Atlantic Ocean.
Hurricane Sam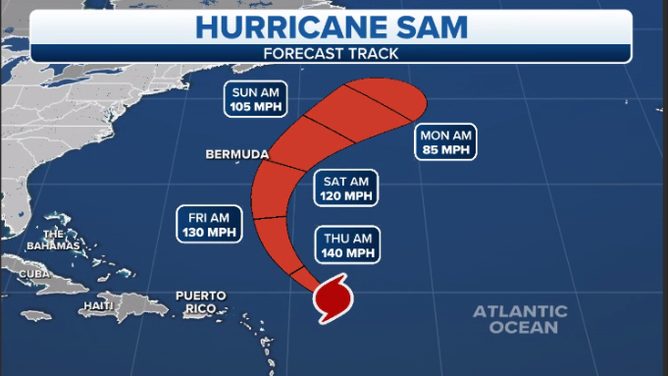 Hurricane Sam was holding onto Category 4 strength as of the 11 a.m. Eastern advisory. It had winds of 130 mph, which puts it on the cusp of Category 3/Category 4 status. It has been fluctuating between those two categories for a few days now.
It was located about 400 miles east-northeast of the northern Leeward Islands and was moving northwestward at 9 mph.
The good news is that the center of Sam is expected to remain over open water, though it will pass close to Bermuda by Saturday.
Rough seas from the Lesser Antilles to the Bahamas, Bermuda and the U.S. East Coast are expected into this weekend.
Remnants of Peter
An area of low pressure associated with the remnants of Tropical Storm Peter, located several hundred miles south of the coast of Newfoundland, is producing disorganized showers and thunderstorms.
This system is moving northeastward into a region of very strong upper-level winds, and significant development is not expected.
Invest 91L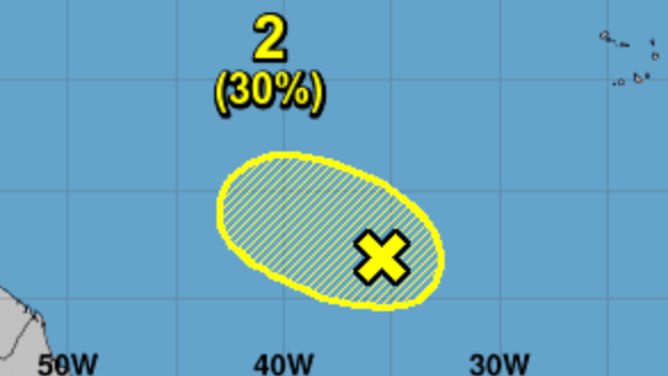 Showers and thunderstorms remain disorganized in association with a trough of low pressure located several hundred miles southwest of the Cabo Verde Islands.
Development of this system appears less likely due to the interaction with Tropical Depression Twenty located to its east. This system is forecast to drift west-northwestward over the central tropical Atlantic during the next few days.
Where we stand
The Atlantic hurricane season continues through the end of November. Here's where things stand as of Wednesday.