Tropical Depression Mindy brings heavy rain to the Southeast
Mindy made landfall as a tropical storm in the Florida Panhandle Wednesday evening
Heavy rain from Tropical Depression Mindy is spreading across parts of the southeastern United States, where localized flash flooding and isolated tornadoes are possible on Thursday.
The National Hurricane Center said Tropical Storm Mindy formed late Wednesday afternoon when Doppler radar detected a well-defined circulation less than 100 miles off the Florida Panhandle coast.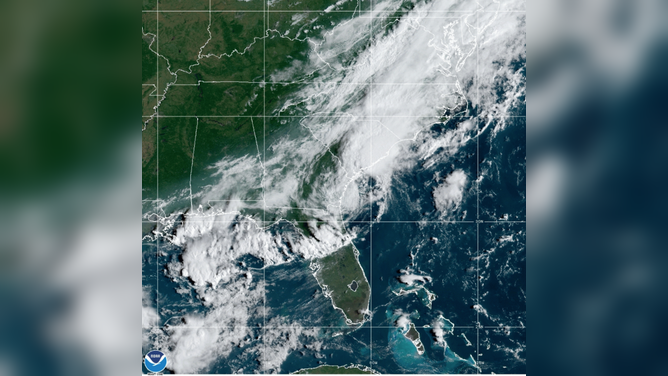 Mindy made landfall at 8:15 p.m. Central time – a few hours after forming – with 45-mph sustained winds on St. Vincent Island, Florida, about 10 miles west-southwest of Apalachicola.
The Tyndall Air Force Base tower south of Apalachicola reported sustained winds of 44 mph and a gust to 55 mph around the time of landfall Wednesday evening, according to the NHC.
Mindy weakened to a tropical depression early Thursday morning while moving inland through the Southeast. Its center moved off the coast of Georgia and emerged over the western Atlantic Ocean later Thursday morning.
Little change in strength is expected through Thursday night. Gradual weakening is then expected on Friday, and Mindy is predicted to become a remnant area of low pressure by Saturday as it moves northeastward away from the U.S. East Coast.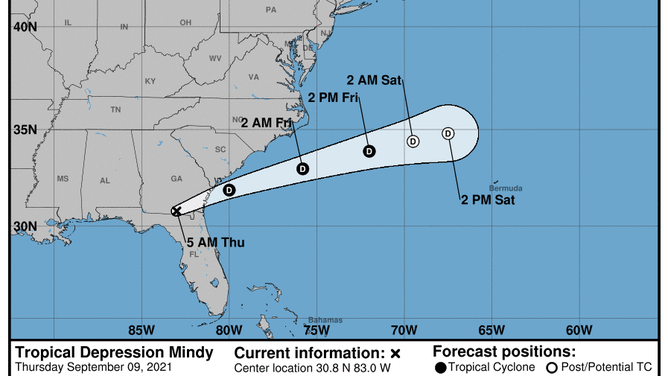 The main threat from Mindy is heavy rainfall that could result in localized flash flooding across portions of southern Georgia and coastal South Carolina, according to the NHC. Mindy is expected to produce storm-total rainfall amounts of 2 to 4 inches, with isolated maximum amounts of 6 inches, in these areas on Thursday.
Additionally, gusty winds will accompany the heavy rain, especially along the Georgia coast.
An isolated tornado or two is also possible over portions of North Florida and far South Georgia on Thursday.