Tree blown onto power line started Kruger Rock Fire, officials say
Fire has consumed more than 100 acres, prompted evacuations
ESTES PARK, Colo. – Investigators said Wednesday it appears a tree that was blown onto a power line is the cause of the Kruger Rock Fire that has consumed more than 100 acres.
Gusty winds Tuesday allowed the fire to quickly spread after it ignited near the town of Estes Park, inside Rocky Mountain National Park. That prompted officials to order several mandatory evacuations inside the area between Estes Park and Lyons to the southeast. Voluntary evacuations have been issued closer to the towns.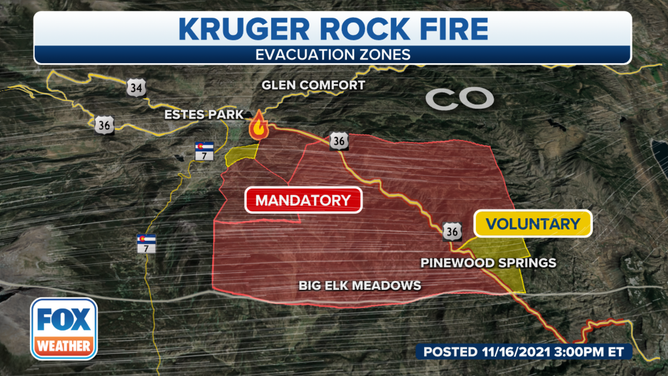 Those winds also grounded aircraft typically used to fight wildfires in the mountainous terrain. However, those planes were allowed to fly late Tuesday when the winds relaxed. Officials said a pilot of one of those tanker planes was killed when the aircraft crashed on the south side of Hermit Park.

As of Wednesday afternoon, the fire had burned 140 acres and was 15% contained.
Wednesday's weather will feature calmer winds and cooler temperatures, which should help firefighters make some progress.
Breezy conditions are possible Thursday as an area of high pressure moves into the region.