California to be slammed by another atmospheric river event with torrential rain, flooding
Rainfall totals topped a foot in some communities during the previous workweek. Forecast models show another 3 to 5"+ of precipitation is likely, especially in communities in Northern California.
Days of heavy rainfall and melting snow that triggered Flash Flood Emergencies and were blamed for the deaths of at least two people could return to the Golden State as another atmospheric river gears up over the moisture-laden Pacific.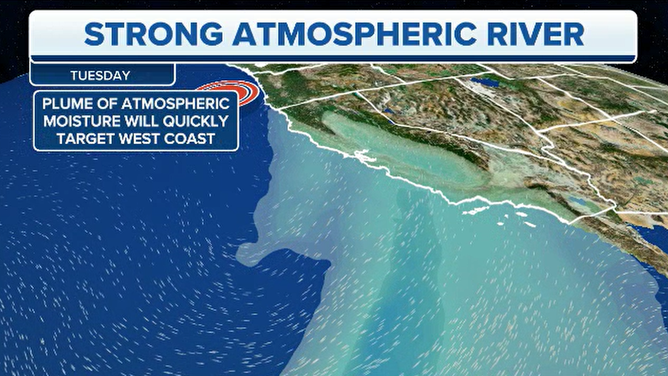 A large part of the state is under a Flood Watch with another atmospheric river on the way. At least 34 counties are still under a State of Emergency. 
"We have back-to-back lows, one of which spinning up and bringing in some moisture across the northern tier of the Golden State, and then we have another low and another low behind that," says FOX Weather Meteorologist Jane Minar. "All of this is going to funnel in, our next atmospheric river, and that's what we're watching as we go into Tuesday."
DEADLY CALIFORNIA ATMOSPHERIC RIVER CAUSES EVACUATIONS AS FLOODING WREAKS HAVOC ON STATE
Next atmospheric river set to slam California starting Monday
The previous storm pounded parts of California Thursday and Friday. But periods of rain, snow and thunderstorms continued through the weekend. 
An EF-1 tornado briefly touched down in Tuolomne County on Saturday. Merced, California in the Central Valley was even under a rare Tornado Warning on Sunday from a pop-up storm.
Several evacuation orders were downgraded to warnings along rivers that continue to rise. But, authorities warn residents to be prepared to leave again with the new rain threat.
Before the event begins, around a dozen major river gauges were either near flood stage or above.
The supercharged storm moves in on Monday with the heaviest rain and snow in the evening into Tuesday.
The flooding threat on Sunday, Monday and Tuesday.
 
---
Rain and snow
The FOX Forecast Center calls for 3 to 6 inches of rain across the coastal ranges, foothills and mountains below around 6,000 feet, with the intrusion of tropical warmth. Some areas could see over 8 inches locally. This will mean more rain falling on snow with the possibility of deadly runoff and flash flooding.
"Tuesday morning is when I think we'll see the heaviest of that rain, just bulls-eye parts of Redding, California, toward Napa Valley and then work its way down the coast from Sacramento through San Francisco," said FOX Weather Meteorologist Michael Estime.
Rainfall and snow forecast amounts
 
---
7 FACTS YOU SHOULD KNOW ABOUT FLASH FLOODS
Some mountain residents are still trapped by snow while other homeowners can't even get through the unplowed roads to check on their homes. But, the weight of wet snow brings even more danger to the homes as roofs have started to collapse.
The warm system could even raise the rain-snow line up to pass level, quickly melting the near record-breaking snowpack that could create catastrophic flooding and landslides. Communities above 7,000 feet are in for another 1 to 3 feet of snow.
The NWS is warning mountain residents of "roofalanche" when heavy, wet snow slides off a roof. Already with the previous storms, one woman was killed when a "roofalanche" took out her porch and crushed her while she was clearing it. We have also seen dramatic video of raging fires in the snow after a roofalanche severed natural gas and propane lines leading into homes. 
Wind
The ground is already saturated and wind gusts from 45 to 60 mph and up to 100 mph at the highest peaks will knock more trees down. Power is still being restored from the last wind and rainstorm, yet utilities are warning residents to be ready for blackouts. 
DANGERS OF AVALANCHES, AND HOW TO STAY SAFE ON THE SLOPES
Tuesday Wind Gust Forecast
 
---
The worst of the mountain winds will likely be on Tuesday. The NWS is already cautioning high profile vehicles like trucks to stay off interstates through the passes.