Thousands seek shelter as tornado sirens sound in Minneapolis
Storms knocked out power to more than 80,000 homes in Minnesota Wednesday evening
MINNEAPOLIS – A line of severe thunderstorms triggered several warnings in the Twin Cities Wednesday knocking over trees and power lines and forcing fans to seek shelter at Target Field.
The National Weather Service issued several Tornado Warnings for radar indicated twisters, but the storms might be remembered more for their ferocious winds and large hail.
Meteorologists warned winds could have topped 70 mph as the line of storms moved through the metro area.
The damaging winds knocked over trees and power lines.
As of Wednesday evening, nearly 83,000 customers were without electricity, according to PowerOutage.US.
The storms were also electrified and produced stunning displays of lightning across a large part of southern Minnesota.
At one point, FOX Weather was counting more than 700 strikes every five minutes.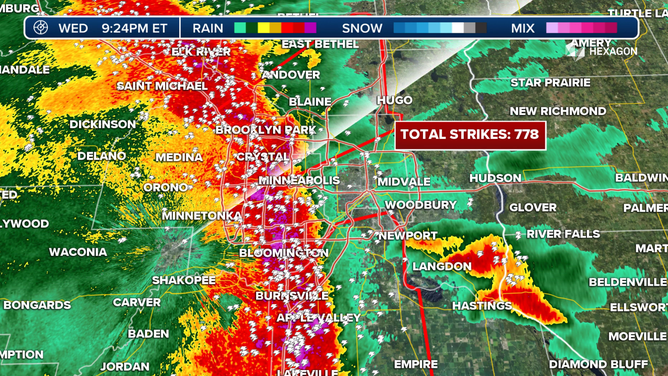 The severe storms forced the evacuation of Target Field where fans were gathered to watch the Astros-Twins game.
The game was suspended until at least Thursday.
The severe storms also produced heavy rainfall that quickly flooded some low-lying areas.
Pictures show vehicles near the Mall of America in Bloomington, Minnesota surrounded by floodwaters at a transit station.
An organized severe weather threat is expected to develop again across Minnesota and nearby states on Thursday afternoon and evening.
Large hail greater than 2 inches in diameter, widespread damaging winds, and tornadoes will again be possible.