Storms in SoCal keep it cool while summer heat bakes Sacramento
Hot and dry conditions will persist across the northern third of the Golden State while cooler temperatures and severe thunderstorms will impact the south
It's a duel of weather across California on Wednesday.
Hot and dry conditions will persist across the northern third of the Golden State while cooler temperatures and severe thunderstorms will impact the south.
HOW TO WATCH FOX WEATHER ON TV
A few dry, high-based thunderstorms will be possible across portions of Central and Southern California and the southern Great Basin given closer proximity to some of the monsoonal moisture over the Four Corners region, the National Weather Service said. Some moisture can actually be traced back to Tropical Storm Celia.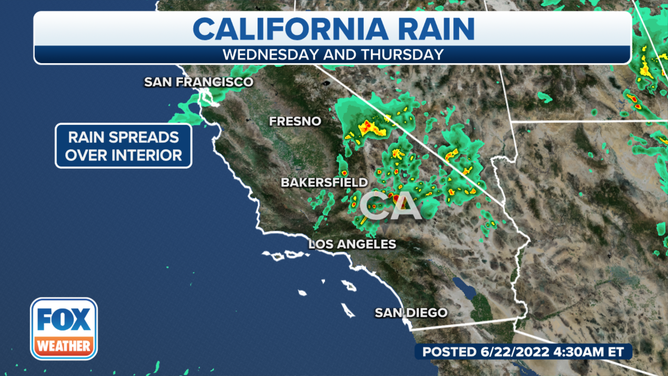 Showers and thunderstorms were affecting Los Angeles and Ventura counties Wednesday morning. Los Angeles County saw its first Severe Thunderstorm Warning in nearly five years overnight.
A few isolated instances of large hail and damaging wind gusts will be possible with any of the stronger storms.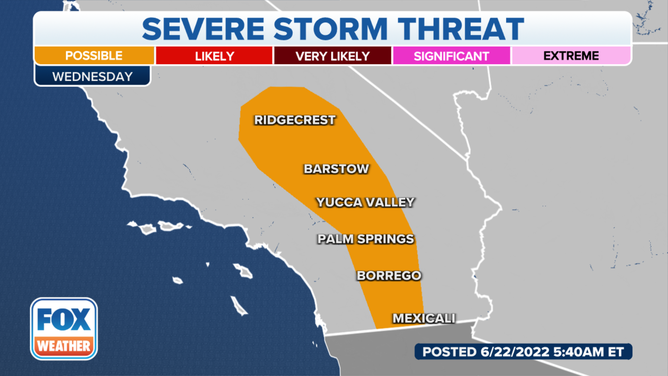 Any June rain in Southern California is notable as it is one of the driest months of the year. Most locations average less than 0.1 inches for all of June.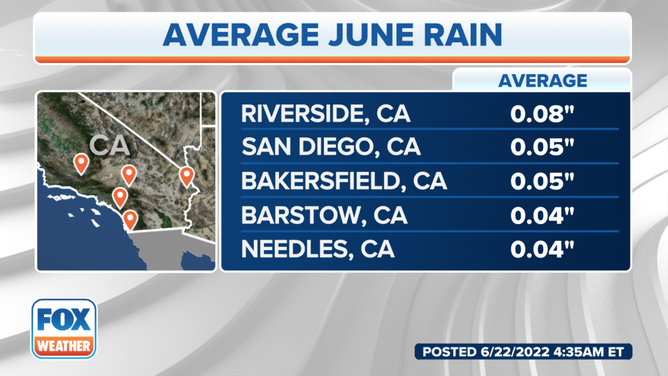 The thunderstorms may actually lead to an enhanced wildfire threat as lightning could spark new fires while much of the rain evaporates before reaching the ground.
As a result of the increased clouds and rain, temperatures will run 5 to 15 degrees below average.
Meanwhile, in Northern California, temperatures will be 10 to 20 degrees above average. Some temperatures in the Sacramento Valley may reach the century mark.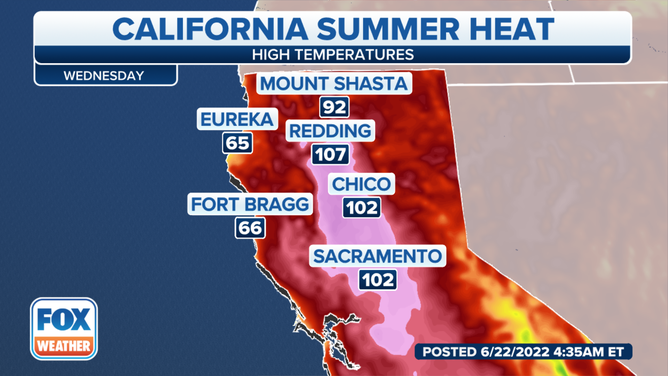 A Heat Advisory remains in effect until 10 p.m. Pacific time for the Sacramento Valley, northern San Joaquin Valley, Carquinez Strait and Delta and adjacent foothills, the NWS said.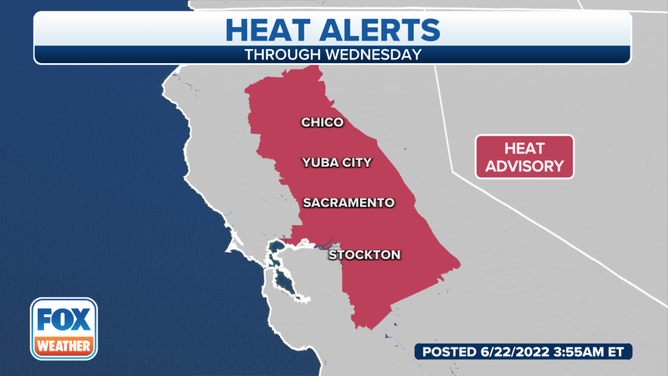 Dry weather is expected overall along the West Coast and into the Great Basin. However, some wildfire concerns will exist from lightning strikes associated with these generally dry thunderstorms.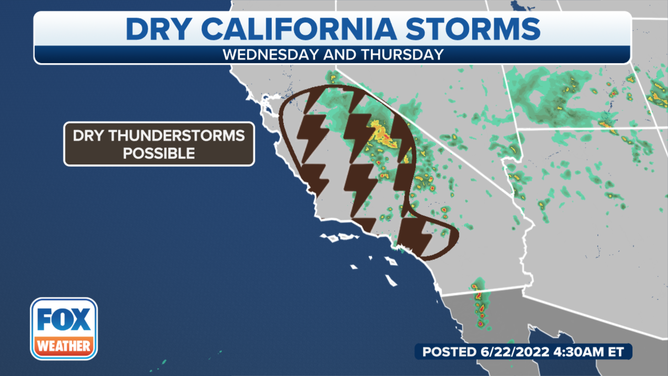 CLICK HERE TO GET THE FOX WEATHER UPDATE PODCAST
Track the temperatures in your area with the FOX Weather app. The free FOX Weather livestream is also available 24/7 on the website and app and on your favorite streaming platform. The FOX Weather Update podcast also provides weather information for the entire country.