The latest sunrises of the year are this week – not on the winter solstice
The sunrise this week is not until about 8 a.m. in some cities, later than on the winter solstice
Although the winter solstice is the shortest day of the year, the latest sunrises of the year are this week because of everyone's favorite timekeeping quirk: Daylight Saving Time.
The sunrise this week is not until about 8 a.m. in some cities, especially those situated on the western fringes of their respective time zones such as Atlanta and Cincinnati, Ohio, in the Eastern time zone.
Without Daylight Saving Time, the latest sunrises would always occur near or shortly after December's winter solstice, but it's a lot more complicated for the 48 states that observe the semiannual time change. (Arizona and Hawaii are the only two states that never switch from Standard Time.)
REMINDER: DAYLIGHT SAVING TIME ENDS THIS WEEKEND FOR MOST AMERICANS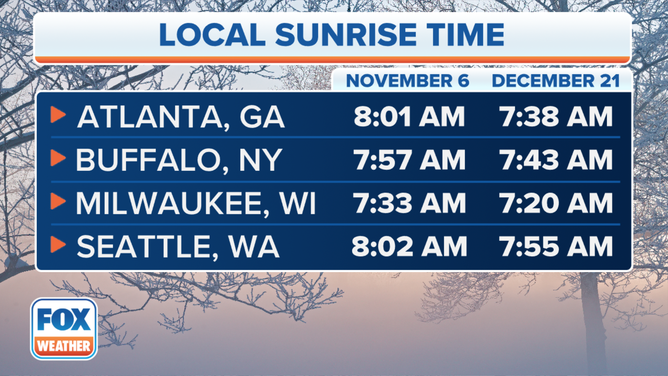 Since we turn the clocks back an hour and return to Standard Time this Sunday at 2 a.m., many locations will have their latest sunrise of the entire year Saturday morning on the last day of Daylight Saving Time. The sun will "magically" appear above the horizon a full hour earlier Sunday morning.
The sun will rise in Atlanta at 8:01 a.m. Saturday morning, while in Cincinnati, it won't come up until 8:11 a.m. But on Dec. 21, the first day of winter, the sunrise will be at 7:38 a.m. in Atlanta and 7:28 a.m. in Cincinnati – even though the length of day is notably shorter by then.
WHY YOUR SUNSET CHART LOOKS WRONG, EVEN THOUGH IT ISN'T
According to Alaska-based climatologist Dr. Brian Brettschneider, the year's latest sunrises are always in early November – before the switch to Standard Time – for all locations in the Lower 48 south of about 39 degrees north latitude. The only exception is Arizona because it doesn't observe Daylight Saving Time, so the latest sunrises there are always near or after the winter solstice.
However, for areas in the Lower 48 north of about 39 degrees north latitude, the latest sunrises can sometimes fall on the last day of Daylight Saving Time, depending on the date that occurs in a given year. But in other years, the latest sunrises in these Northern locations aren't until near or after the winter solstice, according to Brettschneider.
For reference, the 39th parallel runs across the U.S. from Northern California to near the Kansas/Nebraska border, eastward to the Pennsylvania/Maryland border and into southern New Jersey.
Brettschneider also noted the latest sunrises in Alaska are always near the winter solstice in late December, regardless of the day Daylight Saving Time ends. This is because the length of day is so short that time of year, so the sunrises still end up later than they are before the switch to Standard Time.
HOW DO ALASKANS COPE WITH NEARLY ALL-DAY DARKNESS IN WINTER, ALL-NIGHT DAYLIGHT IN SUMMER?