Electric car in Florida catches fire after being flooded during Hurricane Idalia, firefighters say
The U.S. Department of Energy reports there are nearly 168,000 electric vehicles registered in the Sunshine State.
PINELLAS PARK, Fla. — A Tesla that was parked near the ocean and was being towed following Hurricane Idalia's surge in the Tampa Bay region was destroyed by flames Thursday, the Pinellas Park Fire Department said.
While the official cause of the inferno is unknown, firefighters said the electric vehicle was submerged along the coast in Pinellas County, raising suspicions that salt water likely played a role.
During previous weather events where water has compromised batteries, electric vehicles have erupted into flames that require an extensive response by firefighters.
"We sprayed about 200 gallons per minute at the car, and it took us about 45 minutes to extinguish," the fire department said.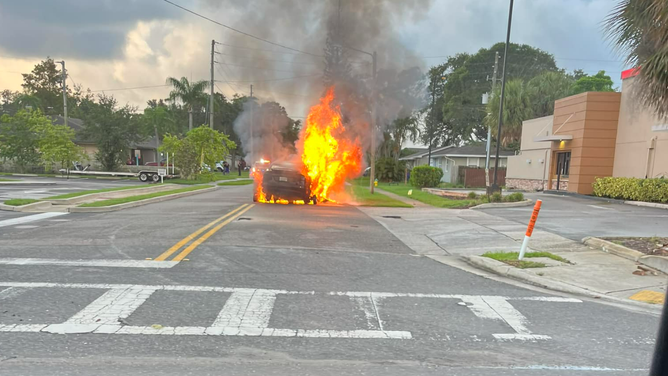 DRONE VIDEO REVEALS DAMAGE, FLOODING FROM HURRICANE IDALIA LANDFALL NEAR KEATON BEACH
The event was similar to a scene that unfolded Wednesday when a Telsa caught fire north of Clearwater in a flood zone.
"If you own a hybrid or electric vehicle that has come into contact with saltwater due to recent flooding within the last 24 hours, it is crucial to relocate the vehicle from your garage without delay," firefighters in Palm Harbor warned. "Saltwater exposure can trigger combustion in lithium-ion batteries. If possible, transfer your vehicle to higher ground."
Florida Chief Financial Officer Jimmy Patronis has been one of the leading voices warning of the dangers that electric vehicles face during floodwaters.
"We saw a number of fires associated with EVs from Hurricane Ian," he said before Hurricane Idalia. "We know that the saltwater from storm surge can compromise these batteries, causing fires which cannot be easily suppressed. The best fire teams can do is keep water on the battery until the fuel burns out."

According to data from the U.S. Department of Energy, Florida has the second-highest amount of registered electric vehicles in the country.
As of July, the Sunshine State was home to nearly 168,000 electric automobiles.
Due to the rise in use, firefighters have undergone special training to better understand how to put out flames involving lithium-ion batteries.
NEW CHALLENGE TO FIREFIGHTERS DURING HURRICANES: ELECTRIC VEHICLE FIRES
 "If you're evacuating and leaving an EV, or other lithium ion powered devices like scooters or golf carts in your garage, you're creating a real fire threat for your home, your communities, and first responders," Patronis said. "Take this threat seriously. If there's even a small risk of your EV being impacted by storm surge, move it to higher ground before it's too late."
Tesla has not specifically addressed the latest cases out of Florida, but statistics posted on the company's website show cases of Tesla vehicle fires are lower than the national average when compared to other automobiles.