Yes, it's still hot, but heat relief in sight by late weekend
From sweltering to serene, welcome to the great temperature divide
It's a battle of extremes from coast to coast with millions sweating in record-breaking heat over much of the South while the Northern Plains gets a blast of cooler air.
High temperatures will soar into the upper 90s and lower 100s from the Southern Plains to the eastern Gulf Coast through this weekend.
HOW TO WATCH FOX WEATHER ON TV
More than 150 record-high temperatures have been set in the past week, and another dozen or so are possible each day through Sunday.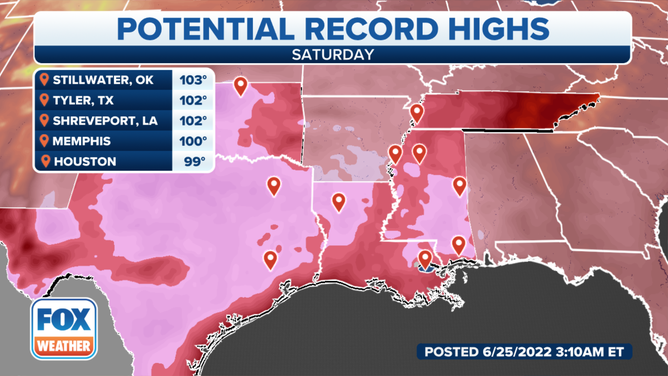 Cities such as Jacksonville and Tallahassee, Florida, and Mobile, Alabama, experienced one of their hottest days on record Thursday as temperatures climbed into the lower 100s.
The combination of heat and humidity will send the heat index into dangerous territory, with values potentially reaching as high as 115 degrees.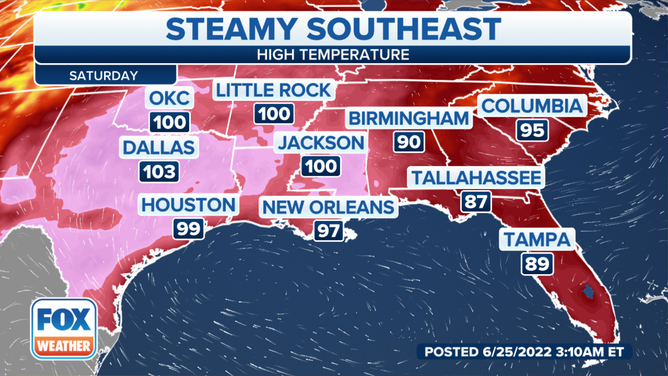 WHERE DID THE' DOG DAYS OF SUMMER' COME FROM?
To account for these brutally hot conditions, Heat Advisories have been issued for 47 million people from Oklahoma and north-central Texas to the central Gulf Coast.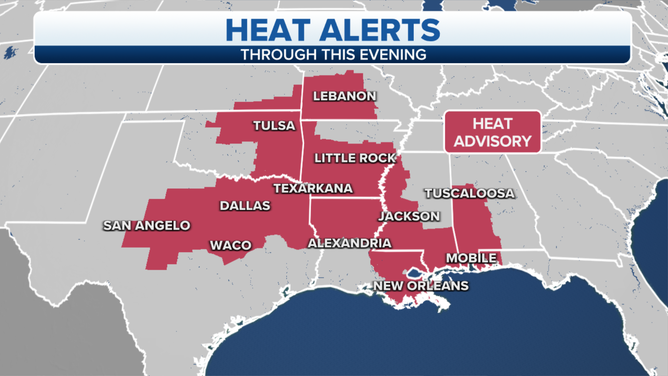 But finally, slightly cooler and less humid air will begin to work its way into the region starting this weekend.
The same cold front causing severe storms in the Plains will sweep across the Northern Plains into the weekend, sending temperatures tumbling. This will be good news to many, as it puts an end to much of the excessive heat in the region.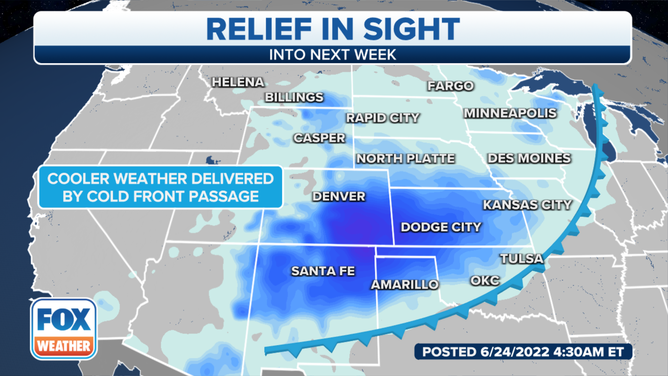 Areas of the Northern Plains will feel the relief first, with cities like Billings, Montana, and Bismarck, North Dakota, only getting into the upper 60s on Saturday – a more than 20-degree temperature drop.
Another area that could see an extreme temperature drop is Fargo, North Dakota, which could see temperatures in the lower 50s Saturday night.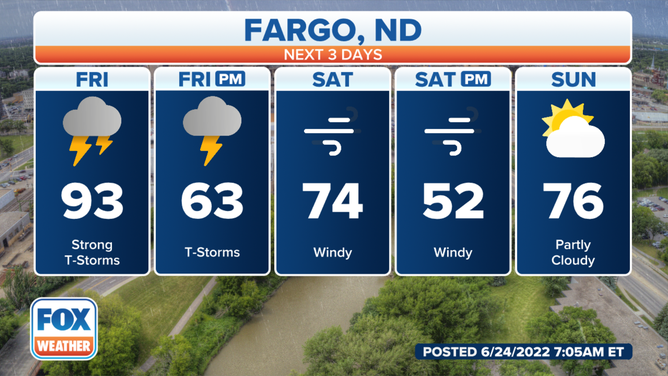 Temperatures could fall as much as 30 degrees in 24 hours, and highs will be 5 to 15 degrees below average.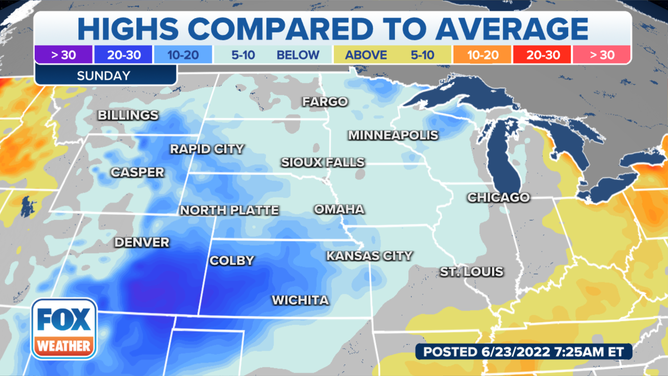 By early next week, the cold front will reach the Southeast, ending their brutal stretch of dangerous heat and humidity. Temperatures will only drop back to near average, but it will still be a relief, which underscores how hot it has been recently.
CLICK HERE TO GET THE FOX WEATHER UPDATE PODCAST
Track the temperatures in your area with the FOX Weather app. The free FOX Weather livestream is also available 24/7 on the website and app and on your favorite streaming platform. The FOX Weather Update podcast also provides weather information for the entire country.