Strong Santa Ana winds could bring 80-mph gusts to Southern California
California Department of Transportation closed Highway 1 in both directions from near the entrance to Andrew Molera State Park in Big Sur to Rio Road in Carmel due to a brush fire
Strong Santa Ana winds are forecast to impact Southern California through Saturday evening, potentially bringing gusts up to 80 mph in the mountains.
This comes as the California Department of Transportation closed Highway 1 in both directions from near the entrance to Andrew Molera State Park in Big Sur to Rio Road in Carmel due to a brush fire.
The National Weather Service also issued High Wind Warnings and Wind Advisories from parts of Central and Southern California into southern Nevada, where the highest wind gusts are expected through Saturday.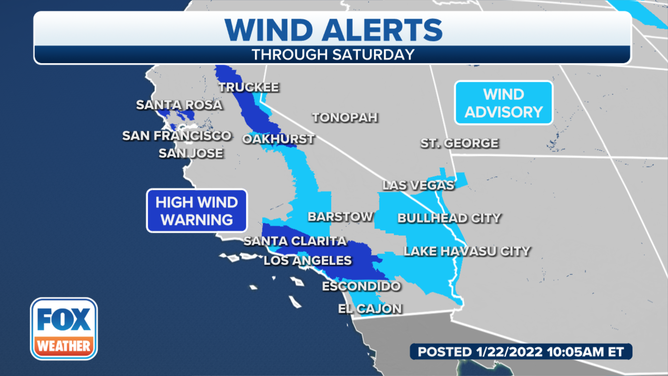 Winds are expected to quickly ramp up to near-damaging levels across much of Los Angeles and Ventura counties by Friday evening, with gusts predicted to reach 70 mph. The western portion of the San Gabriel Mountains might see gusts as high as 80 mph.
Computer forecast models also suggest the potential for damaging winds in the San Gabriel Valley, where gusts could approach 60 mph.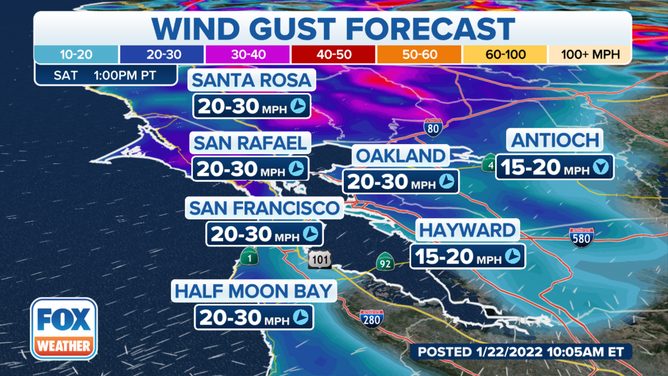 "For many parts of Los Angeles/Ventura counties, (this event) will likely be the strongest Santa Ana we've seen in quite some time," the National Weather Service office in Los Angeles wrote in a forecast discussion.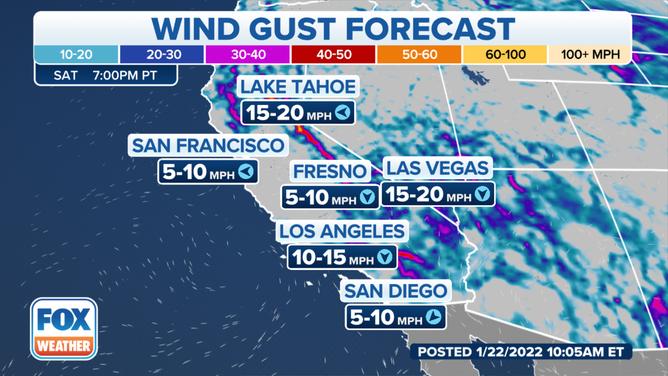 Normally, winds along the California coastline blow inland from the ocean. But during a Santa Ana wind event, the wind pattern shifts offshore and brings in warm, dry air from the east side of mountain ranges that border the coast. The winds then accelerate as they move down the slopes of the mountains, creating the strong, gusty winds typical of a Santa Ana wind event.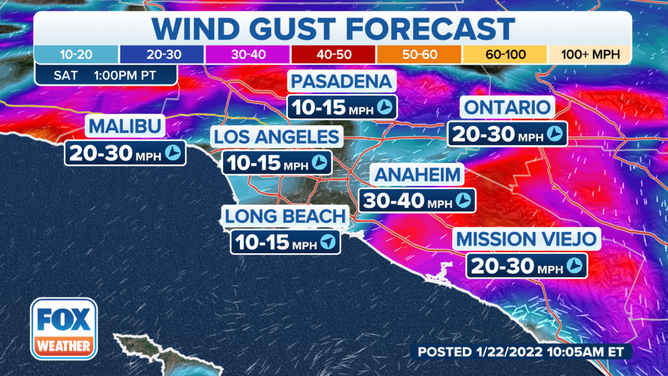 Winds should gradually weaken between Saturday night and Sunday, but gusty winds could linger for the mountains and some valleys in Los Angeles and Ventura counties.
Lighter onshore winds are expected to return to Southern California for Monday and Tuesday.