Storms, motorcycle madness roll into Daytona Beach for Bike Week
Thunderstorms are in the forecast until Saturday, but the weather clears by Sunday with highs in the low 60s under partly cloudy skies
DAYTONA BEACH, Fla. – It's not just sounds of loud thunder coming from thousands of motorcycles on Main Street in Daytona Beach this week. Storms are also moving into Florida. 
The 81st annual Bike Week is underway and continues through March 13. The 10-day festival is the world's largest motorcycle event.
Thunderstorms are in the forecast until Saturday, but the weather clears by Sunday with highs in the low 60s under partly cloudy skies.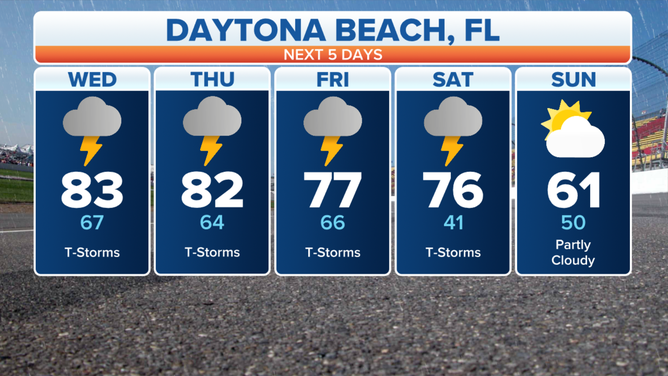 SOUTHEAST BRACES FOR MORE SEVERE WEATHER, HEAVY RAIN ON WEDNESDAY
The National Weather Service said scattered showers and storms are firing up across central Florida on Wednesday afternoon. A strong storm is currently approaching the Orlando metro area and moving east at 25 mph. Wind gusts of up to 50 mph, cloud-to-ground lightning and heavy rainfall are all possible.
While crowd estimates are always hard to determine, in years past, organizers have estimated 400,000 in attendance at the motorcycle event. Some come for a few hours and some for days.
Typically, pre-pandemic, the event has generated about $75 million in revenue for the area, according to the Daytona Regional Chamber, which organizes the event.
"Post pandemic and with travel to Florida, especially, at an all-time high … we anticipate at least that or more this year as well," said Janet Kersey, the chamber's executive vice president.
HOW TO WATCH FOX WEATHER ON TV
Bike Week events are not just held in Daytona but in surrounding communities throughout the east and west coasts of the state as well as the central Florida area during the same time frame. 
The Daytona International Speedway offers a full week of racing excitement including the BMW "Legends of Racing," dirt track races, the Daytona Supercross, the Harley-Davidson TwinSports, 600cc SuperSport International Challenge and the Daytona 200. 
Other events include the Harley-Davidson Museum and motorcycle shows, concerts and fashion shows.
For more information on other Bike Week events, visit officialbikeweek.com.