Storm system to produce rain, snow on Veterans Day
Rain will impact the Southeast and snow will fall across the Upper Midwest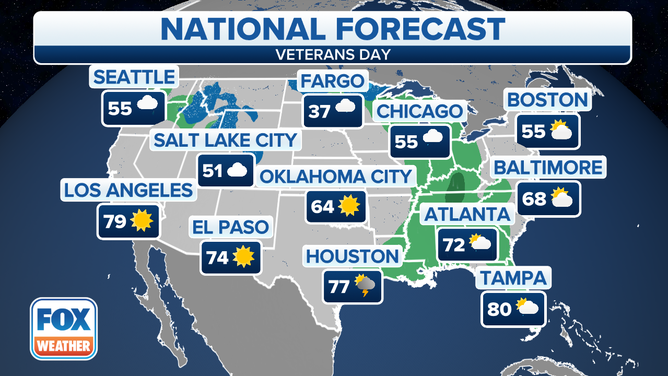 The system that spawned severe thunderstorms in the Plains is moving eastward and will help produce everything from showers and thunderstorms in the Southeast to snow in the Upper Midwest.
The system impacted the West Coast Monday night, and likely won't exit the U.S. until the weekend.
Rain and snow chances will continue to march eastward through Friday, soaking much of the eastern third of the nation. 
Southeast impacts
Because of atmospheric conditions, the overall severe weather threat will be less than what the Plains experienced on Wednesday.
An isolated damaging wind gust or two will be possible from the Gulf Coast into the Tennessee Valley.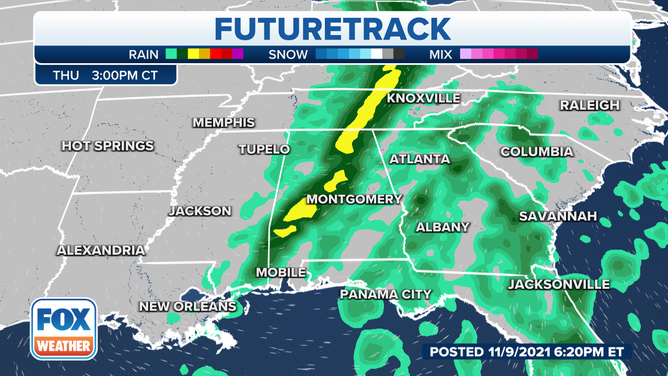 The main concern will be heavy rain that could accumulate to at least an inch in the more mountainous terrains from Tennessee into Virginia.
Temperatures ahead of the rainy weather will remain relatively mild, with 70s making it as far north as Virginia.
HERE'S THE VETERANS DAY FORECAST FOR 9 PATRIOTIC TOWNS
Plains/Midwest impacts
The Northern Plains and upper Midwest will see their first significant snowfall of the season Thursday into Friday.
Winter weather alerts are in effect for parts of several states, as some areas could pick up 6 to 12 inches of snow.
Forecast models show the heaviest snow falling along the U.S.-Canadian border from North Dakota through International Falls, Minnesota.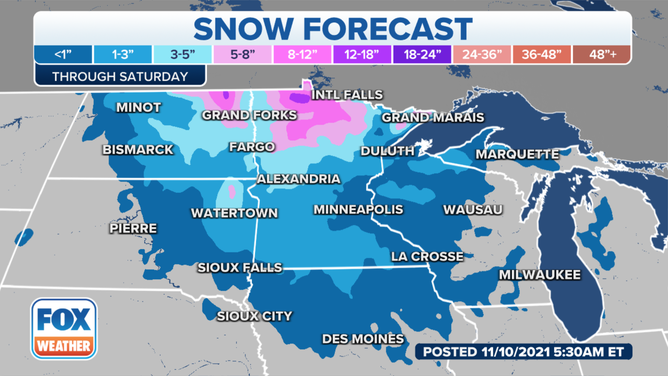 In addition to the snow, meteorologists are also watching the threat of strong winds. Forecast models show widespread wind gusts of 30 to 50 mph through Friday.
Wind gusts of more than 40 mph can blow around objects that aren't secure and make driving difficult for high profile vehicles.
High Wind Watches and Warnings have been posted from Nebraska to the Canadian border.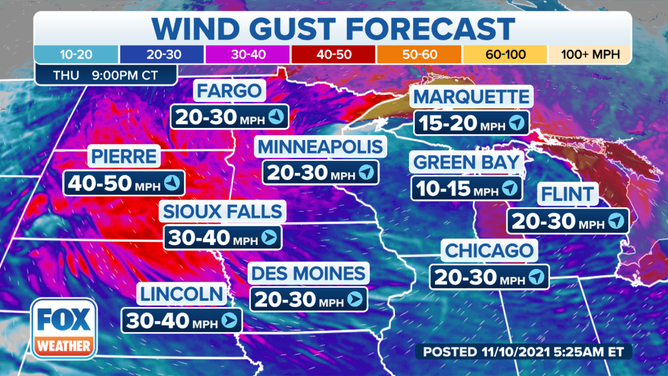 Friday impacts
As the system pushes eastward, so will chance of rain for the Northeast and New England. 
The heaviest precipitation on Friday will impact the Mid-Atlantic through parts of New England. Temperatures will be warm enough that the majority of what falls will be in the form of a cold rain.
On the backside of the system, lake-effect rain and snow showers will likely develop downwind of the Great Lakes this weekend.