Midweek storm system kicks off with haboob, dust devil in Desert Southwest
The National Weather Service issued a Dust Storm Warning for Inyo County in south-central California on Tuesday.
INYO COUNTY, Calif. -- Travelers around Death Valley got quite the surprise on Tuesday afternoon when gusty winds kicked up not only a dust devil but also a haboob that traveled hundreds of miles across the rural terrain of Southern California. 
Photographer Chris Attrell was near the California-Nevada border when he said he saw a dust devil in front of him and a haboob behind him.
A haboob is an Arabic term for a dust storm, where outflow winds typically from rainstorms or fronts pick up dust and spread the tiny grains out in a wall-like form.
Attrell captured the unique experience on video, while meteorologists with the National Weather Service in Las Vegas monitored the event on satellite.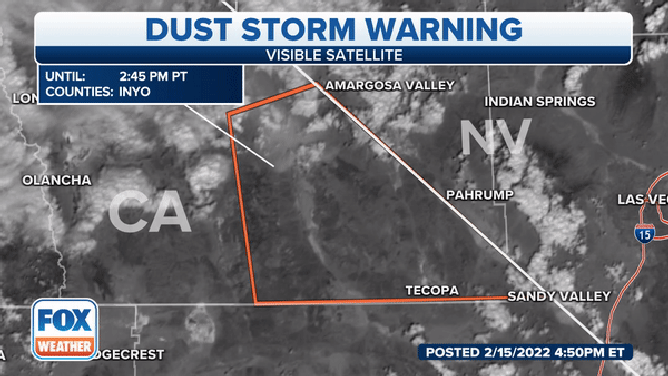 Because of the dangers to travelers, meteorologists issued a Dust Storm Warning that cautioned drivers of the potential for visibilities of less than a quarter of a mile in Death Valley and along Highway 190.
The NWS said that while Tuesday's sights were unique, the area from Southern California to Nevada and into northwestern Arizona does see around a handful of dust storms a year.
Winds were gusting around 40 mph at the time when the wall of dust was spotted in the desert.

Meteorologists said a developing storm system that will impact the nation's heartland with snow and severe storms midweek was responsible for the windy conditions.
Depending on the weather patterns, the NWS said haboobs can occur during anytime of the year.
In addition to being found in the Southwest, the weather phenomenon are commonly sighted in the Sahara Desert, along the Arabian Peninsula, North Africa, and Gulf of Guinea.