Storm system brings severe thunderstorms, flooding to parts of southern US
Some parts of the southern U.S. could pick up 3-5 inches of rain through Wednesday morning
Severe thunderstorms, including strong winds, hail and tornadoes, are possible from the Southern Plains into the Mississippi Valley through Tuesday.
Monday night, several severe thunderstorms rolled across Texas and Oklahoma dropping quarter to half dollar sized hail and generating 60 mph wind gusts.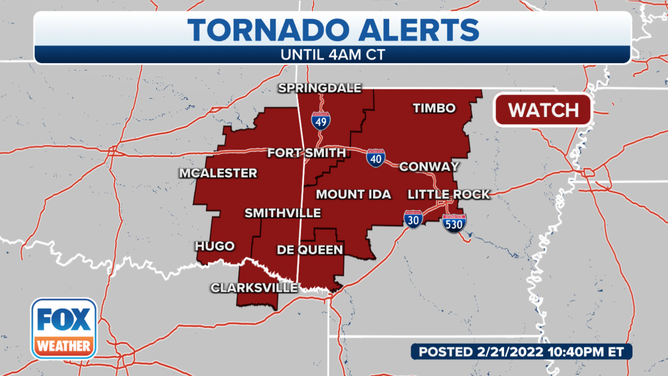 The National Weather Service issued a Tornado Watch for parts of Texas, Oklahoma and Arkansas until 4 a.m. local time,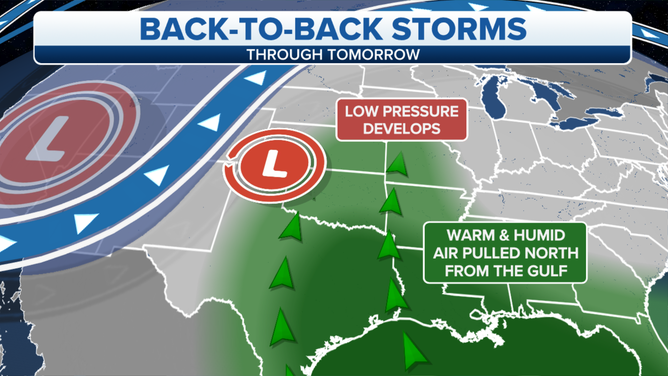 An area of low pressure over the Texas and Oklahoma panhandles tapped into warm, humid air from the Gulf of Mexico Monday, and that triggered showers and thunderstorms.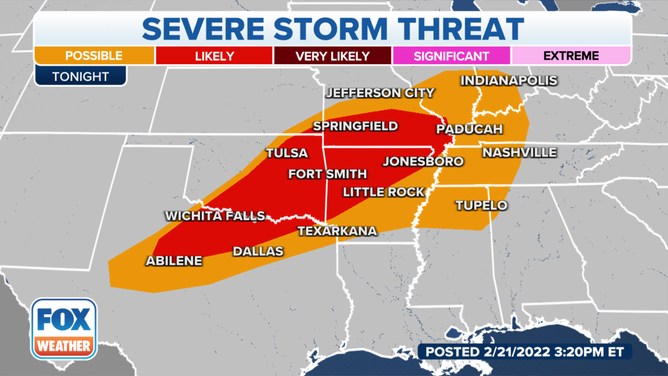 Severe thunderstorms are likely in areas to the north of the Dallas/Ft. Worth area, north into Oklahoma City and Tulsa, Oklahoma, and northern Arkansas and southern Missouri.
In addition to the threat of severe weather, flooding is a possibility from northern Texas into the Mississippi Valley. There's a greater concern for flooding in parts of southeastern Oklahoma, northwestern Arkansas and southeastern Missouri.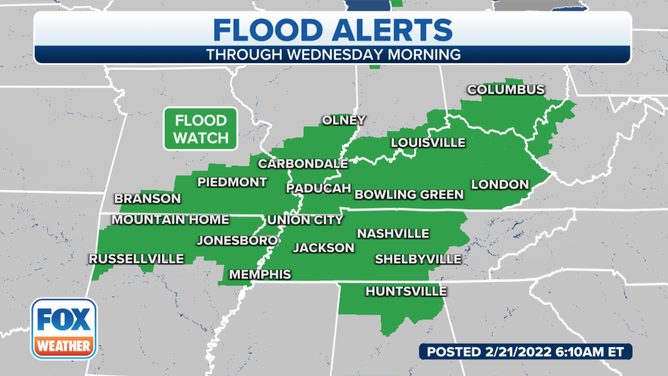 And because of the heavy rain that's expected, flood alerts are in effect from northern Arkansas and southern Missouri eastward into the Tennessee and Ohio valleys through at least Wednesday morning.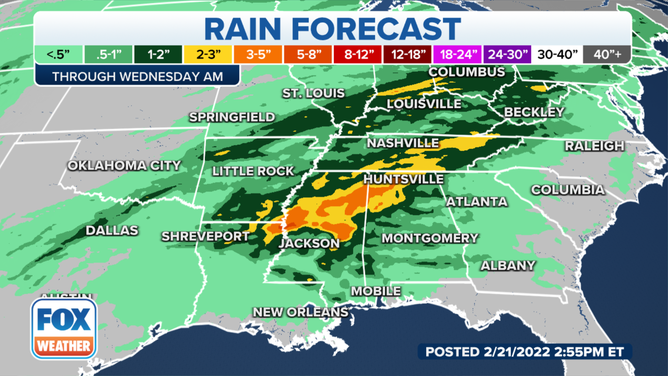 Some areas could pick up 3-5 inches of rain by the time the system moves out of the region on Wednesday.
The heaviest rain is expected to fall across central Mississippi and western Alabama. Heavy rain is also likely through the middle Mississippi Valley into the Tennessee and Ohio valleys.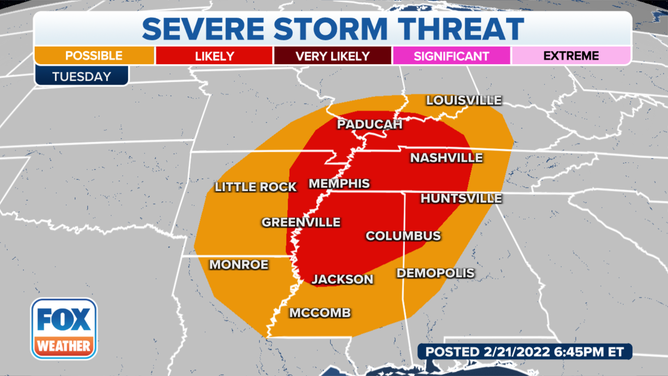 Then on Tuesday, there will be another threat of severe thunderstorms in the Mississippi, Tennessee and Ohio valleys.
Areas where severe thunderstorms are likely include the cities of Vicksburg and Columbus, Missouri, into Huntsville, Alabama, and Memphis and Nashville, Tennessee.
The heavy rain will likely lead to flooding in northern Alabama and western Kentucky, including the Paducah and Louisville areas.