Storm system bringing more rain, snow to the West
A series of systems will impact the Northwest this week
A storm system that moved into the Pacific Northwest is bringing heavy rain to low-lying areas and several feet of fresh snow to higher elevations.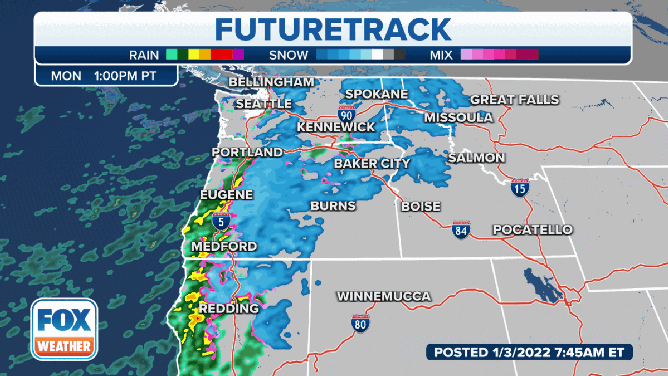 This system is one of a series of storms that will bring rain and heavy snow to the region over the next few days.
The heaviest rainfall is likely to occur over central and southern Oregon southward into northwestern California, where the National Weather Service says 3 to 6 inches of rain could fall.
Heavy snow is also expected to impact the Washington and Oregon Cascades, where 2 to 4 feet of new snow is expected over the next few days.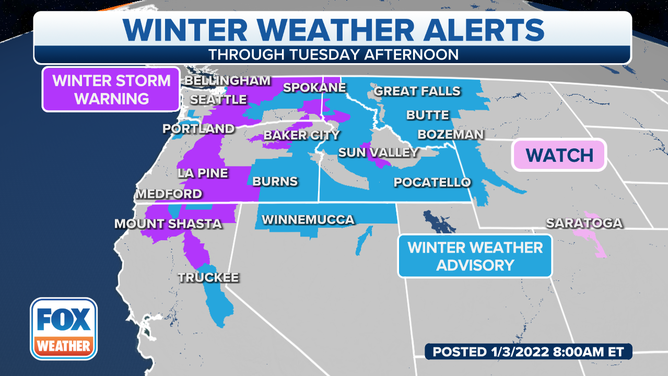 Winter weather alerts are in effect as the storm system advances across the western U.S. Winter Storm Warnings have been issued in the higher elevations from northern Washington southward into Northern California.
Elsewhere, across portions of western Washington, Oregon, most of Idaho and western Montana, Winter Weather Advisories are in effect where several inches of snow could fall through Tuesday afternoon.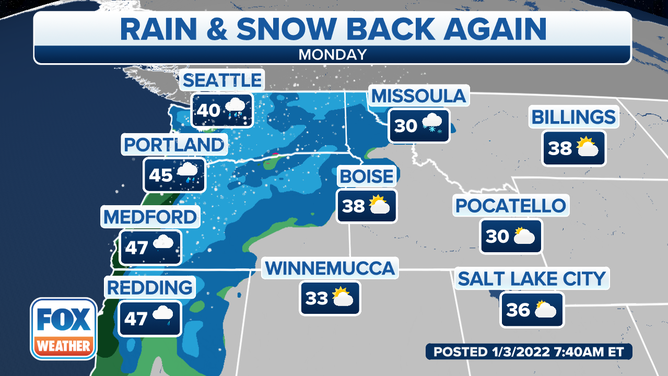 Temperatures will generally be in the 30s and 40s across the West on Monday. 
Seattle will barely make it into the 40s, while it will be a little warmer in Portland, Oregon. Heavy rain is expected in both cities.
Farther south, in Medford, Oregon, and Redding, California, temperatures will get into the upper 40s.
To the east, it's a different story on Monday.
Temperatures will likely stay below freezing in Missoula, Montana, with snow expected.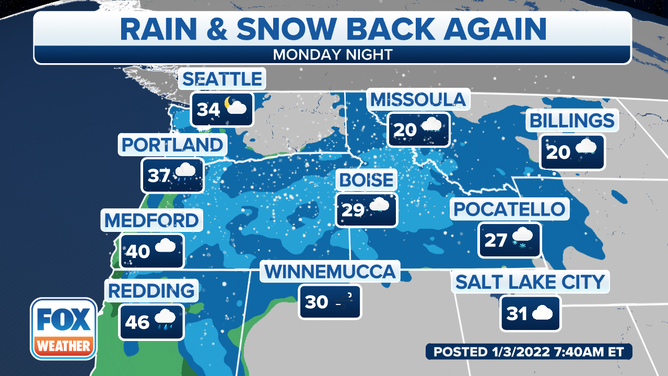 As we head into Monday night, temperatures are expected to drop as the system moves eastward.
Seattle and Portland will drop into the 30s, while southern Oregon and Northern California will likely remain in the 40s.
Temperatures will drop below freezing across Montana, Idaho and northern Nevada.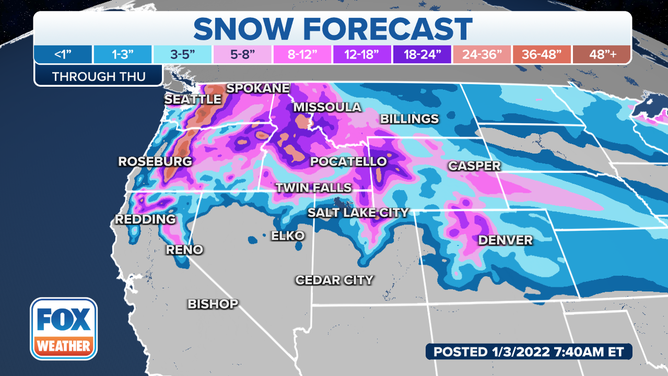 Snowfall totals will be quite impressive in the higher elevations across the West.
The Cascades are expected to pick up 2 to 3 feet of new snow through Tuesday, with some higher totals possible in some locations.
Eastern Washington and northeastern Oregon could also see a few feet of new snow, with higher amounts expected in Idaho and western Montana through Thursday.