Historic Massachusetts church heavily damaged after suspected lightning strike sparks fire
The Sterling Fire Department reported crews were battling a massive fire at the First Congregational United Church that is believed to have been caused by lightning.
SPENCER, Mass. – Dozens of firefighters responded to a historic church in Spencer, Massachusetts, on Friday afternoon to try to save the structure from being destroyed by a fire that is believed to have been started by a lightning strike.
According to the Sterling Fire Department, crews were battling the blaze at the First Congregational United Church, which has had a presence in the community since before the signing of the Declaration of Independence.
Witness videos showed fire billowing out of the structure, and the roof and steeple appeared to have collapsed.
According to the congregation, the land for the church was donated by Nathaniel Cunningham, a wealthy Massachusetts merchant, during the mid-1700s, but a fire in 1862 destroyed the original structure.

The current church was built and dedicated in 1863 and has been renovated and expanded along Main Street in downtown Spencer ever since.
LIGHTNING STRIKES LIKELY CAUSE OF 3 HOUSE FIRES IN NORTHERN TEXAS
The FOX Weather Radar detected a storm with plenty of lightning moving through the heart of town about 2 p.m. EDT.
Meteorologists at the National Weather Service Office in Norton, Massachusetts, said they were not surprised to hear that lightning had possibly struck the structure and said other cloud-to-ground lightning strikes were likely during the stormy pattern.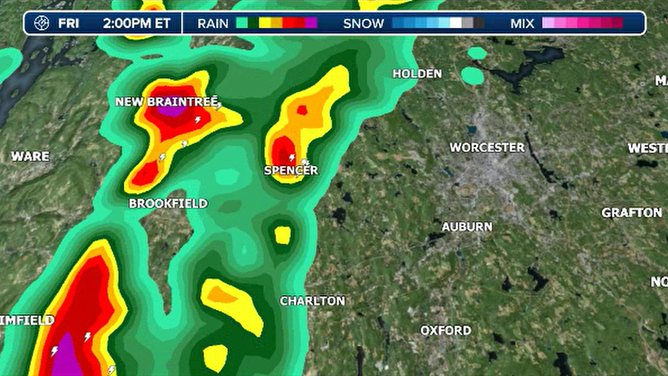 Local emergency management has not said if there were any injuries, but firefighters reported having to deal with extreme heat during the blaze.
Air temperatures at nearby Worcester Regional Airport climbed to nearly 90 degrees during the afternoon, triggering concerns of heat exhaustion for first responders.
DEBUNKING 7 MYTHS ABOUT LIGHTNING
According to the NWS, a structure's height, shape and isolation are all factors in where a bolt could strike.
The antenna on the Empire State Building in New York City is struck at least 25 times a year, according to esbnyc.com.