Southwest gets brief break from monsoon moisture; storms return by weekend
Many areas are receiving beneficial rainfall to help alleviate the ongoing severe to exceptional drought across the region
Showers and storms are becoming more scattered Thursday and Friday in the Southwest, but more widespread storms will return by this weekend as another surge of monsoonal moisture arrives.
Over the last several days, many areas have received beneficial rainfall to help alleviate the ongoing severe to exceptional drought across the region.
HOW TO WATCH FOX WEATHER ON TV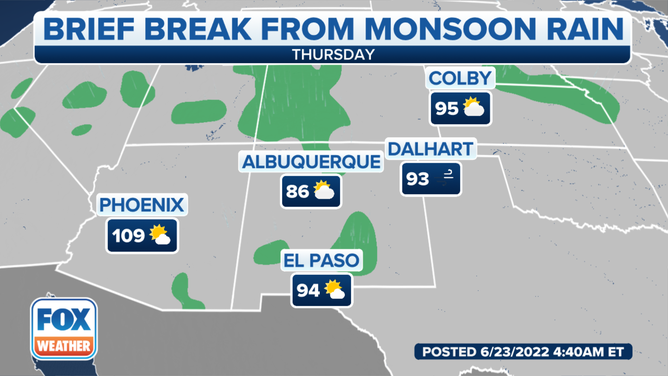 As much as 6 inches of rain has fallen so far in the higher elevations of New Mexico. An additional inch of rainfall will be common through the end of the week, with localized amounts up to 3 inches.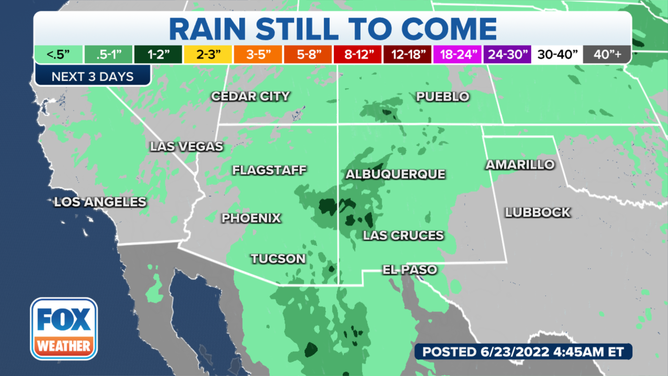 However, this beneficial rain does pose a hazard. Some storms could contain excessive rainfall rates and may cause localized flash flooding.
As a result, a marginal risk of flash flooding remains in place for portions of the Four Corners region through Friday. Areas near recent burn scars will be most at risk for rapid runoff and debris flow.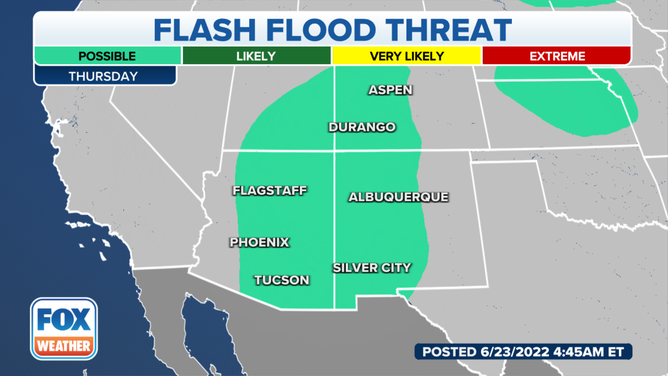 SOUTHWEST MONSOON SEASON IS HERE: WHAT YOU NEED TO KNOW
The radar loop below shows where showers and thunderstorms have been ongoing over the past three hours.
Any active Severe Thunderstorm Warnings are indicated in yellow, while any active Tornado Warnings are indicated in red. Additionally, any lightning strikes are depicted by the white lightning-bolt icons.
(FOX Weather)
---
Monsoon season in the Southwest
The Southwest monsoon season begins June 15 and lasts through Sept. 30 each year.
Monsoon is a term given when winds blow tropical air toward typically desert locations, and Arizona and the Desert Southwest certainly qualify. 
According to the National Weather Service, a ridge of high pressure in Mexico blocks any moisture from reaching the Desert Southwest in early June, allowing for days of hot, dry weather. Later in June and into July, the ridge drifts north into the Four Corners region of the U.S., allowing some tropical moisture to be carried northward from the Gulf of California and the Pacific Ocean.
CLICK HERE TO GET THE FOX WEATHER UPDATE PODCAST
Combine the desert heat with the copious amounts of tropical moisture, and you have a setup ripe for strong thunderstorms with torrential rain. What's more, northern Arizona is home to the Mogollon Rim, an area of high elevation that can provide the additional lift needed to trigger the development of thunderstorms that will often drift into the Phoenix area. 
Be sure to download the FOX Weather app to track any storms in your area and receive potentially life-saving weather alerts issued by the National Weather Service. The free FOX Weather livestream is also available 24/7 on the website and app and on your favorite streaming platform. The FOX Weather Update podcast also provides weather information for the entire country.