Southern California under significant risk of wildfires through Friday
Wind gusts between 30-50 mph are expected through the end of the week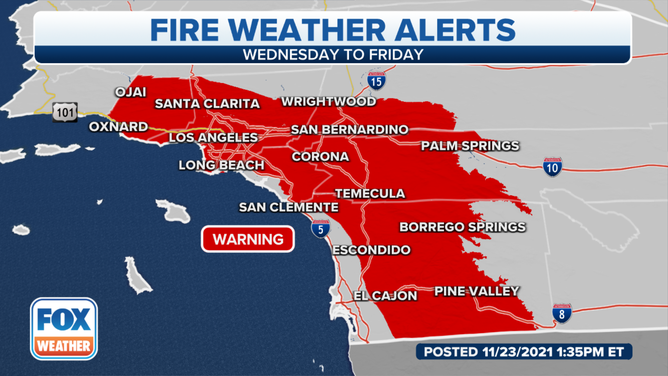 Fire weather warnings have been issued across Southern California through the Thanksgiving holiday as concerns grow that any wildfires that begin during that time can burn uncontrollably for several days.
The National Weather Service says a moderate to strong Santa Ana wind event will impact the area starting late Wednesday morning and will continue through most of the day Friday. 
Winds from the northeast will increase starting around sunrise and will peak late Wednesday afternoon through Thursday morning. Those winds will gradually decrease through Saturday but will remain gusty.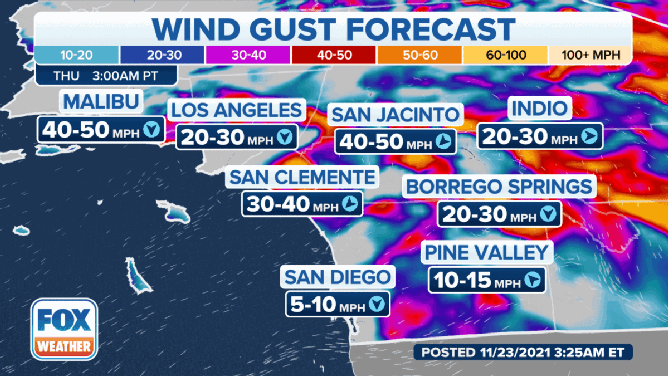 Wind gusts between 30-50 mph are expected, and some higher gusts are possible, the National Weather Service said.
In addition to the strong winds, the humidity levels will gradually decrease to critical levels Wednesday afternoon. They will continue to drop to as low as 2-8 percent by Thursday and Friday.
The combination of the strong winds and low humidity over a long period of time will create dangerous fire conditions for a large part of Southern California, primarily Wednesday and Thanksgiving. However, the risk for wildfires will continue through Friday.