Some in California turn to goats to reduce wildfire risk
'It's a tool … but it is not the end-all, be-all,' fire official says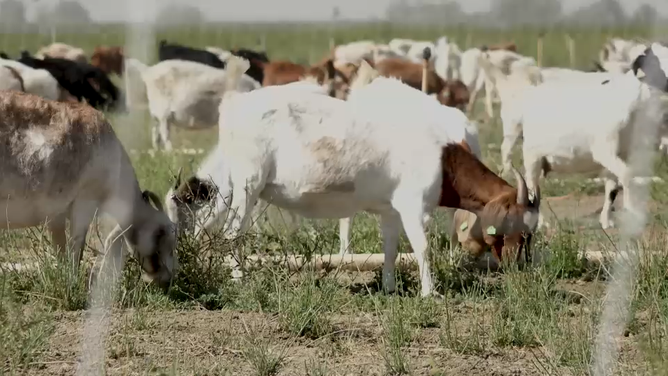 SACRAMENTO, Calif. – Wildfires rage across the West, and California has been hit particularly hard. According to CAL FIRE, more than a million acres have been burned in the state this year.
To cut back on their property's wildfire risk, some people have turned to a group of animals legendary for their voracious appetite – goats.
Mike Canady, who runs Living Systems Land Management in the Bay Area, said he has about 10,000 caprines that are used by land managers and homeowners alike. Their job is simple – graze on anything that could be potential fuel for a wildfire.
"The goats are a big help because they can do a lot of ground," Canady said.
California fire officials said they are seeing more and more people turning to grazing as a land management tool.
Isaac Sanchez, CAL FIRE battalion chief of communications for the Sacramento and Northern California regions, said that the method can be effective in certain situations.
"It's a tool in the toolbox that's utilized in certain areas where it can be effective, but it is not the end-all, be-all," Sanchez said.
USDA study
The U.S. Department of Agriculture is studying whether targeted grazing can be a useful part of an overall land management strategy.
In an article published in the January 2021 issue of the agency's Fire Management Today magazine, researchers outlined a study being conducted in the Mark Twain National Forest in Missouri. While examples are limited, researchers said grazing goats appears to be a great way to reduce wildfire fuel.
"Goat browsing, in particular, can be a highly effective fuels reduction treatment due to the ability of goats to consume a wide variety of plants and to remove shrubs up to 6 feet (2 m) high, reducing both vertical and horizontal fuel continuity," the article read.
Researchers said goats also reduce dead fuels by trampling them into the ground and incorporating them into the soil.
Drought's role
The drought in the West is not only exacerbating the wildfire risk but also making it harder for Canady to keep his goats fed.
"You have to find a place for them to eat, and it's becoming nearly impossible," Canady said. "We're just kind of day-to-day at it, trying to figure out where to go next."
Sanchez said the only true way to reduce wildfire risk is rain.
"Until we see some significant rainfall in our state and across the West, the threat of wildfire is going to be there," Sanchez said.
Wildfire season in California usually lasts until winter.