Soggy start to Disney World's first in-person race this weekend
Rain in the forecast for Disney's Wine & Dine Half Marathon Weekend
Ready, set, get your poncho. Since the pandemic began, Walt Disney World's first in-person race weekend got off to a wet start Friday, as rainfall in Florida is expected to continue through most of the weekend.
The 2021 Disney Wine & Dine Half Marathon Weekend began with a 5K race Friday morning. The big event is Sunday with the Wine & Dine Half Marathon, when runners travel through the theme parks and end with a celebration at Epcot. Virtual races were still an option for those unable to attend in person. 
This year's theme is "Wickedly Delicious," an ode to Disney's favorite villain characters. 
A little water won't delay the races. Disney's policy is that the events go on rain or shine, but if there is lightning in the area, it may delay the start or cancel the race.
According to Walt Disney World lighting policy, event operations will shut down the race when lightning is 10 miles out from the event area. Everything will pause until the lightning is 10 miles out and moving away from the site.
The first race, a 5K, started Friday at 5 a.m. before sunrise with drizzling rain. FOX 35 Orlando's video shows some runners were already wearing their ponchos at the starting line.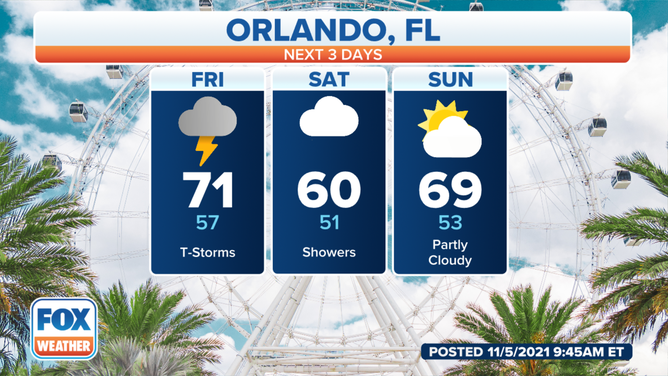 Heavy rain began to pick up in Central Florida by mid-morning. Flood advisories are in effect for coastal Central Florida areas and throughout the state for most of Friday. For those near Disney property, rain throughout midday Friday can be expected. 
For Saturday's 10K, rain chances drop to 30 percent. Runners start at 5 a.m. with cooler temperatures in the low 50s. 
Saturday's high in Orlando is 60 degrees thanks to an area of low pressure dropping temperatures in the southeast. On Saturday, a windbreaker might be a good idea for runners or walkers because it will be windy with a west northwest wind between 15 and 20 mph.
The half-marathon begins at 5 a.m. Sunday with some of the best weather of the weekend. After the race starts in darkness, runners will finish in mostly sunny conditions. Sunrise is at 6:42 a.m., an hour earlier because daylight saving time ends Sunday. 
Sunday's high is 69. Again, it will be a little windy with gusts up to 20 mph.