Soggy Seattle sets record for wettest autumn
In the town that perhaps has the rainiest reputation in the nation, this autumn went beyond anything the normally stormy season has dished out before.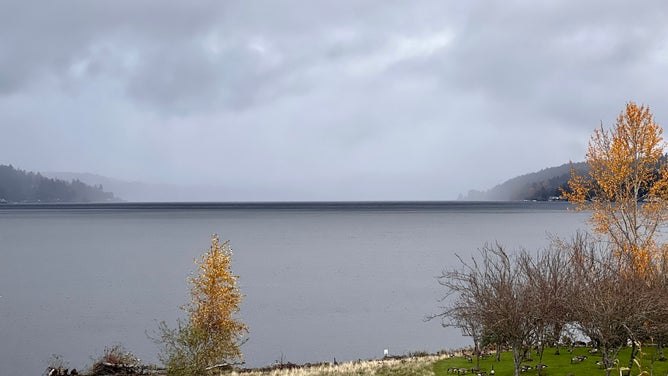 SEATTLE -- In the town that perhaps has the rainiest reputation in the nation, this autumn went beyond anything the typically stormy season has dished out before.  
A half dozen atmospheric rivers will sure do the trick.
With still some light rain filling the numerous puddles around town, Seattle has collected 19.03 inches of rain since Sept. 1, making it the wettest Meteorological Autumn on record, topping the 18.61 inches received in 2006.
The bulk of that rain fell in November, where 10.26 inches of rain makes the month not only the fifth-wettest November but the ninth-wettest of any month at Sea-Tac Airport -- the city's official climate reporting station, where records go back to 1945.
November is statistically the wettest month in Seattle, averaging 6.35 inches. But 2021 was rainy by those wet standards. Seattle recorded rainfall on 27 of the 30 days in November -- 25 of them enough to measure.
And persistent gray has gone hand-in-hand: The city had 24 days of at least 80% cloud cover, and the "sunniest" day was still considered mostly cloudy at 60%-- recorded on two of the three days where no rain fell. Overall, the month averaged 84% cloud cover during the daylight hours.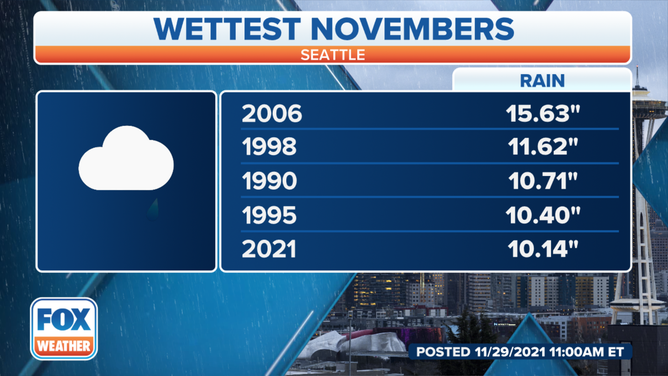 All that rain was usually blowing in at an angle, carried sideways by the consistent breezes brought by the storms. Seattle recorded seven days with a peak gust of at least 40 mph, topping out at 58 mph on Nov. 15.
Other towns set records too
Bellingham, which sits near the Canadian border, and Forks, perched on the northern Washington coast, took the brunt of several atmospheric rivers.
For Bellingham, their 14.57 inches of rain in November is not just their wettest November on record (by more than 2 inches), but it's their wettest month of any month on record!
The city recorded six days with an inch or more of rain -- also breaking an all-time record.
The heavy rains of Nov. 13-15 set 48-hour, 72 hour and eventually 5-day rainfall records in the city.
Forks has recorded at least two *feet* of rain in November, including back-to-back dates of 4 inches on Nov. 14-15. A rain gauge malfunction on Nov. 27-28 wiped out data for another heavy rain event, but an unofficial rain gauge a few miles inland recorded 5.05 inches during those two days, suggesting Forks likely finished the month with well over 30 inches of rainfall. (Officially finished at 27.56 inches with two days' missing.) 
For the entire Meteorological Autumn, Forks officially ended up with at least 54 inches of rainfall (plus perhaps another missing 5 inches from the rain gauge issue). According to the National Weather Service, it would typically take Las Vegas 13 years to amass that much rain that fell in three months in Forks.