Snow moving across Great Lakes into Northeast
Lake effect snow warnings issued for Erie County, Pennsylvania.
Parts of the Great Lakes region into the Northeast could see several inches of snow as an Alberta Clipper moves through the area.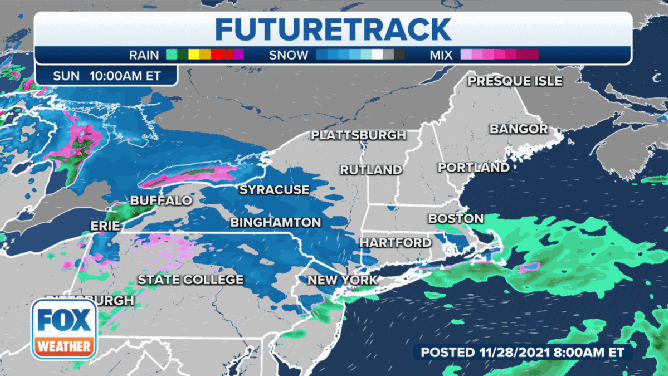 Some areas of New York State and Vermont have already seen about a foot of snow, with Austerlitz, New York picking up 13.5 inches since Friday. Canaan, New York and Lincoln, Vermont has received just under a foot of snow.
And there's still more to come.
Bands of lake effect snow from the Buffalo, New York area stretch across the region into places like New Jersey and New York City into central Connecticut, where snow showers were reported early Sunday morning.
There shouldn't be any high totals in the region, but people hitting the roads to get home after the Thanksgiving holiday may experience some delays where snow has covered roadways and highways in the area.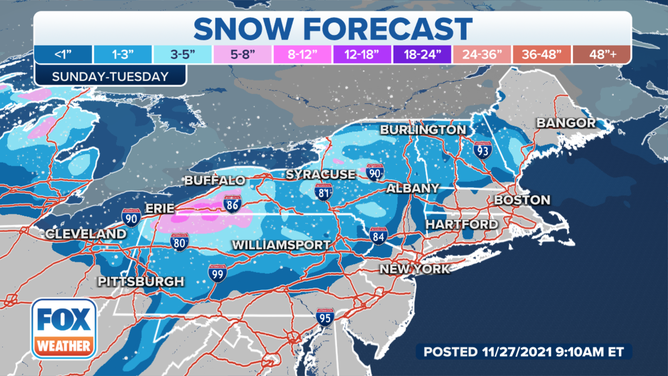 Several inches of snow can be expected in parts of the Great Lakes region where heavier bands are setting up. 
Traverse City, Mackinaw City and Grayling, all in central and northern Michigan, could get a few more inches of snow from the system.
Further east, a lake effect snow warning was issued for the Erie, Pennsylvania area, including Edinboro, Corry and Union City, Pennsylvania, from noon Sunday until 7 a.m. Monday.
That area could receive up to 10 inches of snow before the system finally moves out.
The National Weather Service says the highest snow totals are expected in areas of Erie County south of interstates 90 and 86 and east of Interstate 79. The highest snowfall rates are expected between 2 p.m. and 8 p.m., where rates over an inch an hour are possible.