Snow, freezing rain pushes across New England
Winter weather alerts remain in effect for parts of northern New England
The snow across northern New England and the Northeast has tapered off as a system continues to push through the region, leaving behind cold air and nearly a foot of snow in some areas.
Some winter weather alerts remain in effect for northern New England through Sunday afternoon.
Winter storm warnings are in effect for northern New Hampshire and southwestern Maine until 11 a.m. Winter weather advisories will remain in effect for central, northern and eastern Maine until 1 p.m.
The frozen precipitation will continue to fall in northern New England until later in the afternoon when the system finally pushes offshore.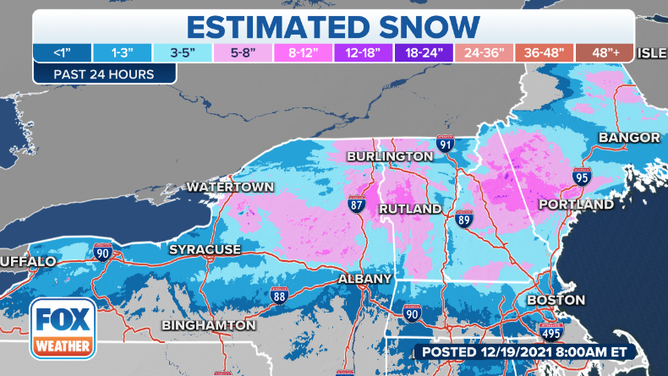 Snowfall totals in the region range from less than an inch to nearly a foot of new snow. Connecticut, Rhode Island and Massachusetts saw lesser amounts of snow, with most areas picking up anywhere from a trace to a few inches.
Northern New York, Vermont, New Hampshire and parts of Maine saw higher snow totals from this system. Some areas saw between 5-8 inches of snow, with some locally higher amounts between 8-12 inches.
WHITE CHRISTMAS CHANCES TO REMAIN A DREAM FOR MOST OF THE COUNTRY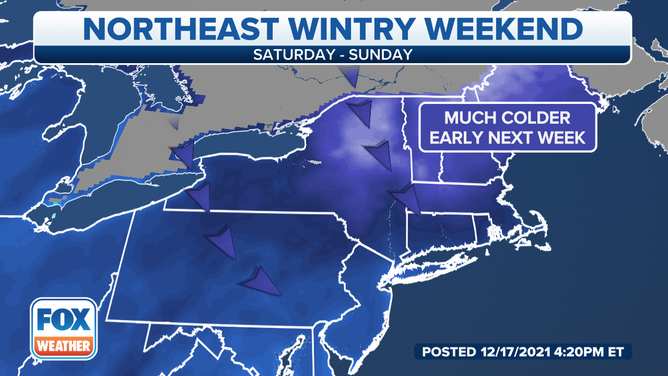 The storm system will also usher in cooler air, but meteorologists say the below-normal temperatures won't last for an extended period.
High pressure is expected to build into the region during the Christmas week, which will allow temperatures to return to normal during the midweek time frame.