Slow-moving cold front brings heavy rain, flash flooding threat to Southeast this week
'This part of the country can quickly become problematic in this setup, so stay tuned'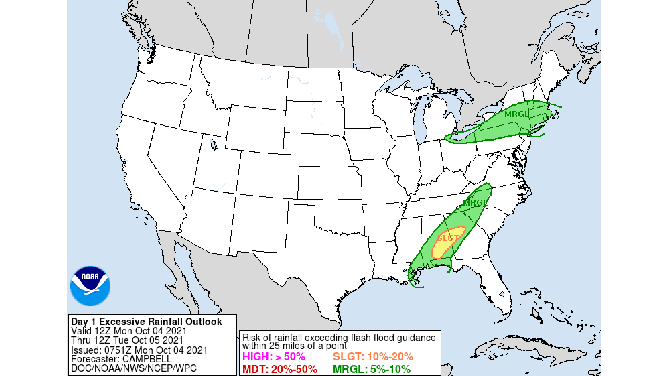 A slow-moving cold front will bring areas of heavy rain and the threat of flash flooding to the Southeast this week.
On Monday, scattered showers and thunderstorms are expected from the central Gulf Coast to the southern Appalachians. Widespread heavy rainfall is not expected, but localized rainfall rates of 1 to 2.5 inches per hour are possible across Alabama and Georgia from midday through the afternoon.
NOAA's Weather Prediction Center has highlighted an area from southern Alabama into Middle Georgia for a slight risk (level 2 out of 4) of excessive rainfall on Monday.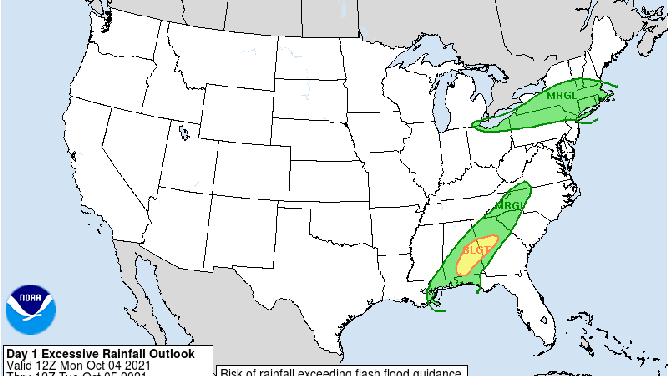 Flooding was already occurring in Destin, Florida, Monday morning, according to the Okaloosa County sheriff's office. A photo shared on social media showed a car submerged in floodwaters.
A new upper-level disturbance will move toward the Southeast on Tuesday as the cold front continues to move slowly eastward. This will further increase the risk for heavy rain across the region.
Rainfall rates near 1 to 2 inches per hour are possible for several hours from Alabama into the western Florida Panhandle, North and Middle Georgia and the western Carolinas. The WPC has hoisted a slight risk (level 2 out of 4) of excessive rainfall for this region on Tuesday, noting that an upgrade to a moderate risk (level 3 out of 4) might be required with future updates.
"This part of the country can quickly become problematic in this setup, so stay tuned," the WPC wrote in its excessive rainfall outlook early Monday morning.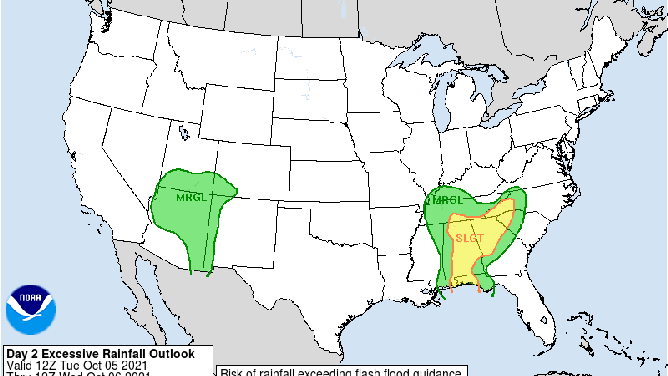 The threat of flash flooding will continue to be elevated on Wednesday as well. The upper-level disturbance and cold front will remain stalled over the eastern Tennessee Valley and Southeast, supporting rainfall rates of 1 to 2 inches per hour once again.
A slight risk (level 2 out of 4) of excessive rainfall is posted for portions of southeastern Tennessee, northeastern Alabama, North Georgia and western portions of the Carolinas on Wednesday.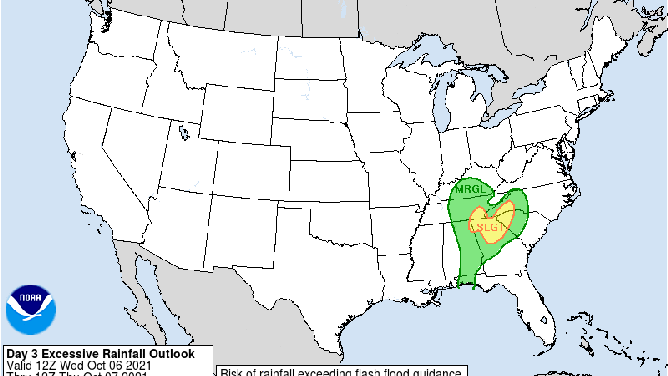 The National Weather Service has issued Flash Flood Watches through late Wednesday night from southern Middle Tennessee into Alabama and the western Florida Panhandle. Additional flood alerts are likely farther east in the days ahead.
Total rainfall amounts of 3 to 5-plus inches are forecast across the Southeast by the end of the week, according to the WPC. The highest totals are expected over the central and southern Appalachians.