Severe weather targets Plains and Northeast this week
Spring storms march across the northern tier of states but stay put in the Southern Plains.
Severe thunderstorms and tornadoes pummeled the Northern Plains and upper Midwest on Memorial Day and into early Tuesday morning, but now the severe weather threat will shift into the Plains and Northeast over the next couple of days.
The video above is one of the first glimpses first responders got of flattened homes in Forada, Minnesota.
'LARGE AND EXTREMELY DANGEROUS TORNADO' TEARS THROUGH MINNESOTA LEAVING WIDESPREAD DAMAGE
Tuesday
While the threat for severe storms is very likely on Tuesday, chances for tornadoes are much lower. Large hail and strong winds with an isolated tornado chance stretches from Michigan to Texas. 
CLICK HERE TO GET THE FOX WEATHER UPDATE PODCAST
 
The best chances for severe weather are from the Texas Panhandle to Kansas City. That includes the threat for two-inch or larger hail and tornadoes.
With the same areas getting rain day after day, flash flooding is a concern.
Oklahoma City, Kansas City and Chicago are in for a tough evening commute.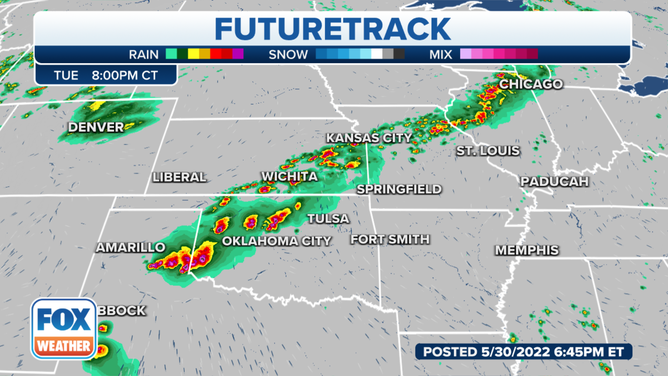 Wednesday
The Texas Panhandle and Oklahoma must brace again for severe thunderstorms and a possible tornado on Wednesday. The threat also moves into Ohio, northern Pennsylvania and western New York.
Up to five inches of rain could fall by mid-week from Missouri to the Texas Panhandle.
Thursday
The severe threat continues Thursday and moves into the Mid-Atlantic states.
Get the most up-to-date forecast for where you live from the app, FOXWeather.com or watch FOX Weather on TV.