Severe thunderstorms threaten upper Midwest, Central Plains on Thursday
Damaging winds, large hail and a tornado or two are all potential threats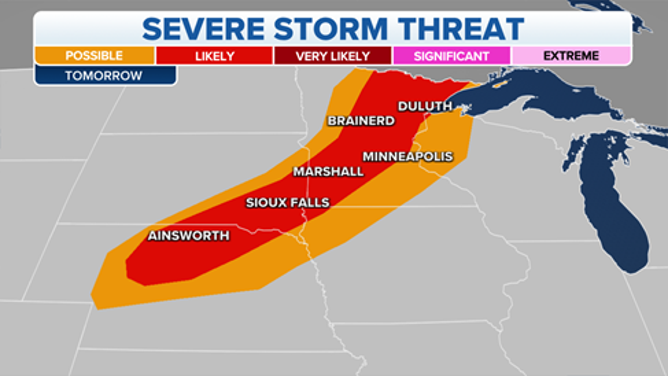 A cold front will fire off numerous thunderstorms across the upper Midwest and Central Plains late Thursday afternoon into Thursday night.
Some of the storms are expected to turn severe, with damaging wind gusts being the main threat. However, the strongest thunderstorms could produce quarter-sized hail or larger, and a tornado or two also cannot be ruled out.
Areas most at risk for severe weather into Thursday night include north-central Nebraska, southeastern South Dakota, far northwestern Iowa and portions of Minnesota, including Minneapolis.
The threat for severe thunderstorms will diminish overnight as the storms weaken toward sunrise Friday.
A much quieter day is expected Friday. NOAA's Storm Prediction Center said that no organized severe thunderstorms are predicted anywhere in the contiguous United States to close out the workweek.