Severe thunderstorms, strong winds possible in the Northeast
Wind alerts are in effect in advance of gusts as high at 65 mph in parts of the Northeast on Sunday.
Severe thunderstorms, including strong, damaging winds, are possible in parts of the Northeast and northern New England Sunday as a system moves through the region.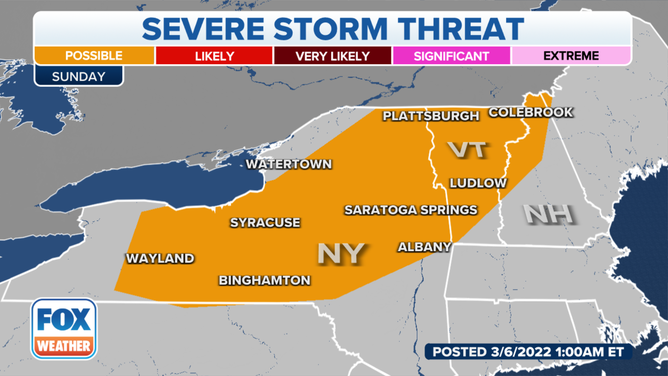 Severe storms are possible in an area that stretches from Wayland, Syracuse and Binghamton, New York, into Vermont and northwestern New Hampshire.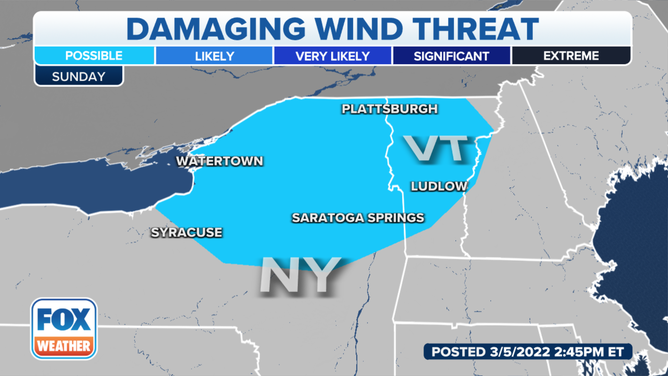 Strong, damaging winds are also possible across the region. Winds will generally be in the 25-35 mph range in northern New York and Vermont, but gusts up to 65 mph are also possible.
BATTEN DOWN THE HATCHES: WHAT YOU SHOULD KNOW ABOUT HIGH WIND WARNINGS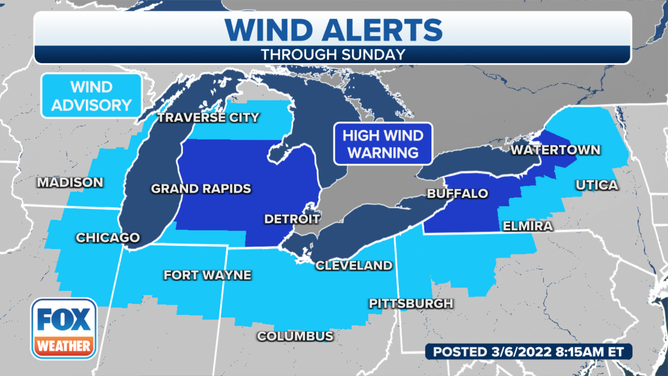 And because of the strong winds, high wind warnings and wind advisories are in effect from the Great Lakes into the Northeast.
The NWS office in Buffalo, New York, says the strong winds will be felt during the late morning hours on Sunday through later in the afternoon.
Areas where the strongest winds can be felt include Niagara, Orleans, Monroe, Erie, Genesee and Wyoming counties.
The NWS said people can expect numerous trees and power lines to be blown down, and power outages are expected.
Travel may also be difficult, so anyone heading out during the day is asked to allow for some extra time on the roads.