Weekend storms could bring hail, tornadoes across central US
A multiday severe weather threat will take shape beginning this weekend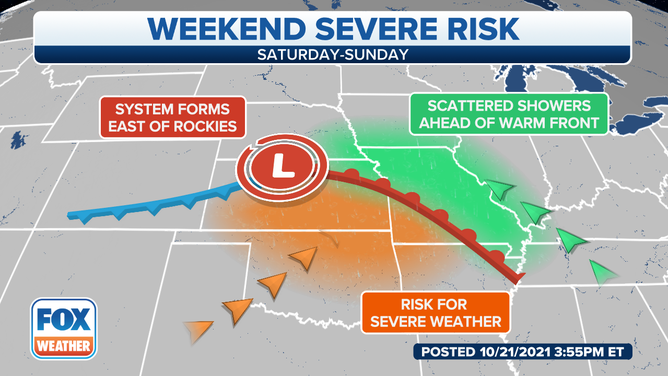 Severe thunderstorms will pose threats of tornadoes, damaging winds and large hail across the central and southern United States beginning this weekend, and the risk of severe weather might even continue through the middle of next week.
A storm system will develop east of the Rockies on Saturday and slide into the Plains, triggering the risk for severe storms Saturday night and again Sunday afternoon into Sunday night.
Gulf of Mexico moisture will stream northward ahead of this system, creating an unstable environment supportive of thunderstorm development from the Central and Southern Plains to the mid-Mississippi Valley.
Forecast
Saturday night
A few strong to severe storms are possible Saturday night from western Oklahoma to central and eastern Kansas, southeastern Nebraska and western Missouri. Northeastern Kansas has the greatest risk for severe weather Saturday night, with large hail posing the primary threat.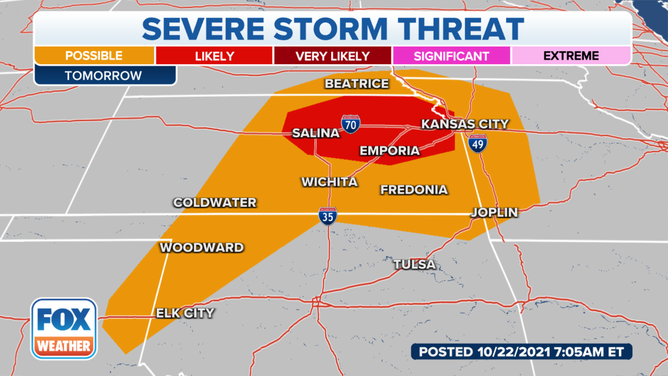 Sunday
A widespread, significant severe weather threat will take shape Sunday afternoon into Sunday night from northeastern Texas, eastern Oklahoma and eastern Kansas into Arkansas, Missouri, western Tennessee, western Kentucky and southern Illinois.
Tornadoes, damaging wind gusts and large hail are all threats from Sunday's severe storms. Parts of Missouri, northern Arkansas, northeastern Oklahoma and southwestern Illinois have the greatest threat of severe weather.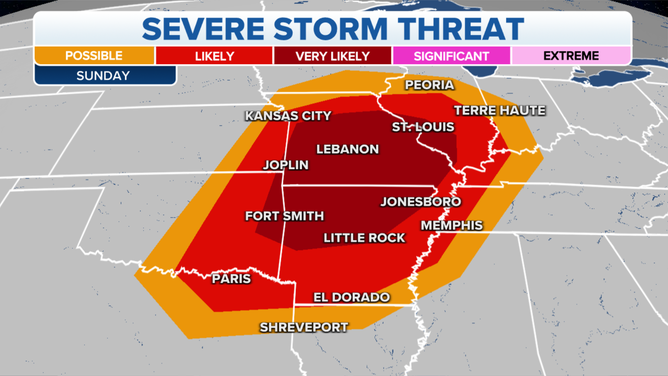 Flash flooding is also a concern Sunday in parts of the mid-Mississippi Valley and southern Great Lakes.
Locally heavy rainfall could drop 3-plus inches of rain in a short amount of time from southeastern Iowa and northeastern Missouri eastward across portions of Illinois.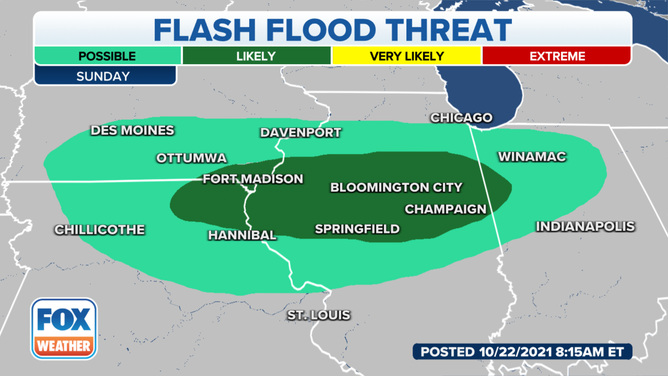 Monday
A few strong storms are possible Monday as the storm system moves through the Tennessee and Ohio valleys during the day and into the mid-Atlantic overnight.
Tuesday
A second, stronger disturbance will push into the Plains on Tuesday, triggering another round of severe weather from southern Nebraska southward into North Texas.
Damaging wind gusts, large hail and a few tornadoes are all potential threats in this region Tuesday into Tuesday night.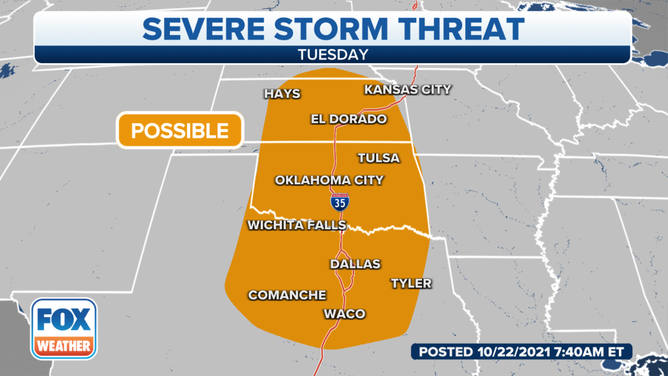 Wednesday
The threat for severe storms might persist on Wednesday as the disturbance moves eastward into the Southeast. 
Gulf of Mexico moisture will surge northward, potentially triggering another round of severe weather along the Gulf Coast from eastern Louisiana into southern Mississippi, southern Alabama, southwestern Georgia and the Florida Panhandle.