Severe thunderstorms, including tornadoes, threaten Midwest and Plains through midweek
Damaging wind gusts, large hail and a few tornadoes are possible
Severe thunderstorms packing damaging winds, large hail and isolated tornadoes will threaten the Midwest and Plains through midweek as a pair of cold fronts sweeps across the central United States.
There were 12 reports of tornadoes Sunday night from Oklahoma to southwestern Missouri. According to the Associated Press, the Tulsa, Oklahoma, suburb of Coweta suffered significant damage to a high school, homes and a gas station from a suspected tornado.
The AP also reported that large hail shattered windows and dented cars in Norman, Oklahoma, where storm spotters said hail ranged from 2 to 3 inches in diameter.
On Monday, the same cold front will move into the Midwest and spawn additional severe weather from the mid-Mississippi Valley into portions of the Great Lakes. The greatest risk for severe storms is from late morning into the afternoon and early evening, when locally damaging wind gusts, isolated hail and a couple of tornadoes are possible.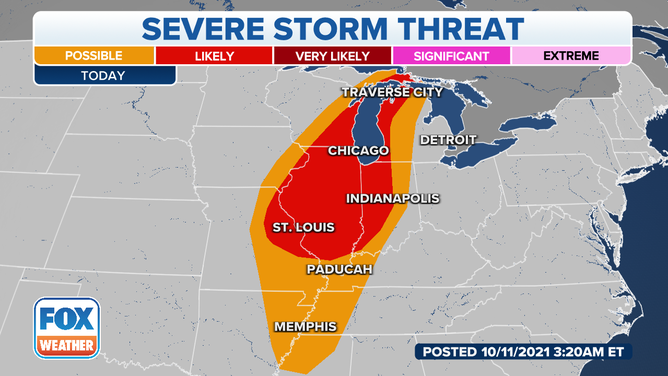 A secondary cold front will sweep into the Plains by late Tuesday. This will trigger another round of severe thunderstorms from Nebraska and Kansas southward to Oklahoma and northwestern Kansas Tuesday evening and overnight.
Damaging wind gusts, large hail and a few tornadoes are all potential threats from these storms.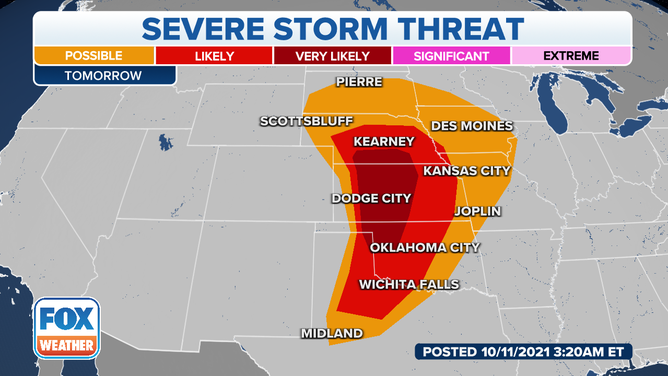 The risk for severe weather will continue into Wednesday as Tuesday night's storms march eastward.
Severe thunderstorms could bring locally damaging winds, hail and an isolated tornado to portions of the Midwest and western Great Lakes Wednesday afternoon and evening.