Severe thunderstorms, including tornadoes, returned to Central and Southern Plains late Tuesday
The threats included damaging wind gusts, large hail and a few tornadoes
A strong cold front sparked another round of severe weather across the Central and Southern Plains Tuesday evening and overnight.
There were a half-dozen reports of tornadoes Monday from southwestern to central Illinois. A storm chaser reported a tornado crossing Interstate 72 near Alexander, Illinois, flipped a semi-truck about 3:30 p.m. Central time Monday afternoon. Another possible tornado damaged a barn and garage about 5 p.m. Central near Washburn, Illinois.
The threat of severe thunderstorms shifted back toward the Plains late Tuesday, with areas from Nebraska and Kansas into central and western Oklahoma and northwestern Texas most at risk.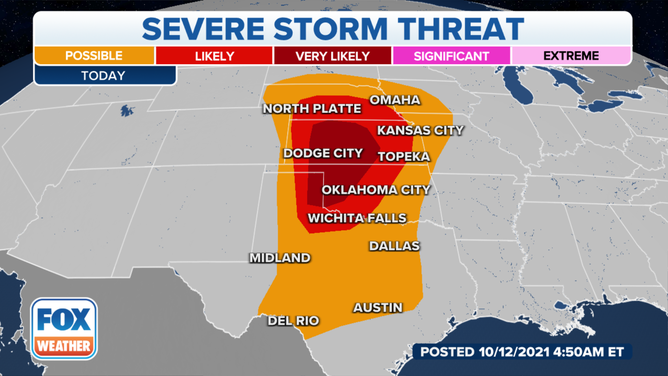 Storms started to develop Tuesday evening ahead of an eastward-moving cold front and continue through much of the night. Damaging wind gusts and large hail are the greatest threats – but a few tornadoes were expected, particularly Tuesday evening with any supercells that may form.
On Wednesday, isolated severe thunderstorms could threaten parts of the Midwest and western Great Lakes, including Chicago, Milwaukee and St. Louis.
Locally damaging wind gusts and a tornado or two are possible with these storms Wednesday afternoon and evening.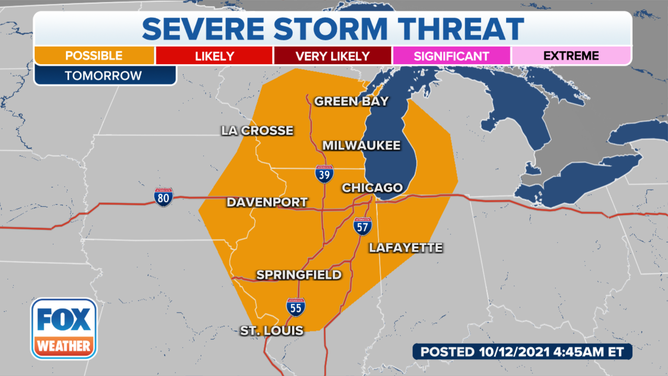 Overnight Wednesday, a separate area of severe storms might affect parts of southern Texas, with the risk for a locally damaging wind gust and an isolated tornado.