Severe thunderstorms pose threats of damaging winds, tornadoes and flooding in the Northeast on Wednesday
The ground is already saturated, so it won't take very much rainfall to trigger flash flooding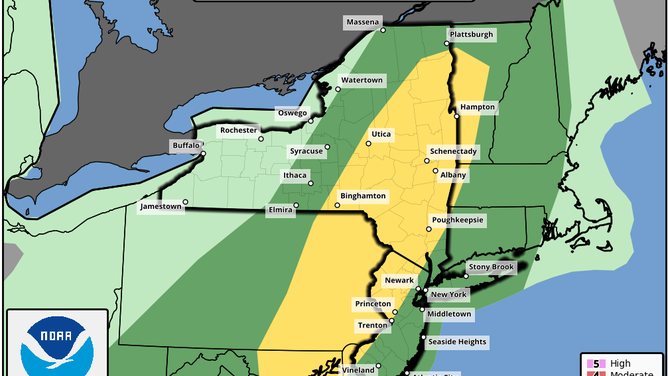 Severe thunderstorms are likely to develop across the Northeast and mid-Atlantic Wednesday afternoon, posing threats of damaging winds, tornadoes and flooding in a region still recovering from the severe weather and widespread flooding from Ida one week ago.
NOAA's Storm Prediction Center has highlighted an area from upstate New York and western Vermont into North Jersey, eastern Pennsylvania, northern Delaware, Maryland and far northwestern Virginia for a slight risk (level 2 out of 5) of severe weather Wednesday afternoon and evening. This includes the cities of Philadelphia; Baltimore; Washington; Albany, New York; and Burlington, Vermont.
"A few tornadoes and scattered damaging thunderstorm winds are expected across portions of the mid-Atlantic region and Northeast this afternoon and evening," the SPC wrote in its convective outlook on Wednesday morning.
Additionally, the thunderstorms will be capable of heavy downpours that can lead to localized flash flooding.
NOAA's Weather Prediction Center has highlighted southern Vermont, western Massachusetts, northwestern Connecticut, New York's Hudson Valley and Catskill Mountains, North Jersey and eastern Pennsylvania for a slight risk (level 2 out of 4) of excessive rainfall through Wednesday evening.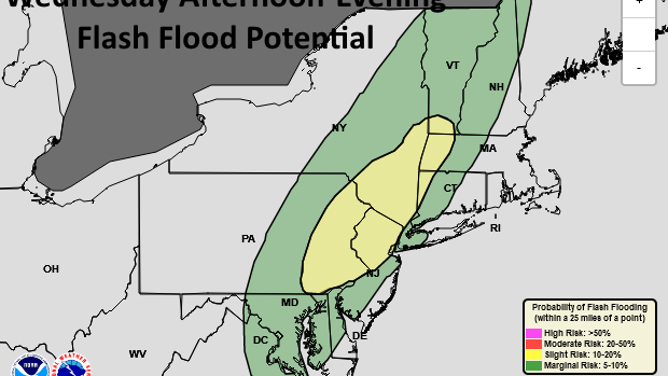 Many of these areas received 3 to 8-plus inches of rain from the remnants of Ida last week, so the ground remains very saturated, meaning it won't take very much rainfall to trigger another round of flash flooding.
Most places are predicted to receive about a half-inch to an inch of rain, with the potential for localized amounts up to 2 inches. Typically, this wouldn't be enough for flash flooding except in highly urbanized areas, where storm drains can struggle to keep up with intense rainfall.
HOW IDA'S FLASH FLOODS IN NEW YORK COMPARE TO SUPERSTORM SANDY
"There are also increasing signals for extremely isolated areas that could receive 3 to 5-plus inches (especially along the Pennsylvania and New Jersey border)," the WPC noted in its excessive rainfall discussion on Wednesday morning.
Flash flood watches are in effect through late Wednesday night for parts of eastern Pennsylvania, North Jersey, the southern Catskills and lower Hudson Valley, where there's the greatest potential for flash flooding to develop.