Severe thunderstorms with damaging winds, hail and tornadoes threaten Northeast on Wednesday
The greatest tornado risk is from southeastern New York into New England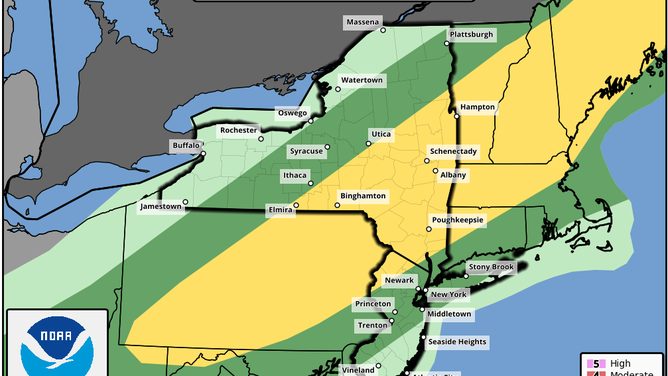 Severe thunderstorms will develop across the Northeast on Wednesday, packing threats of damaging winds, large hail and isolated tornadoes.
NOAA's Storm Prediction Center has highlighted a stripe from Pennsylvania and far northern West Virginia into Maine for a slight risk (level 2 out of 5) of severe weather. A broader area from northeastern Tennessee and eastern Kentucky into New England is highlighted for a marginal risk (level 1 out of 5).
An approaching cold front will be the trigger for a line of severe storms Wednesday afternoon into Wednesday night. Damaging wind gusts are the main threat from the storms, but large hail and isolated tornadoes are also possible, particularly from southeastern New York into New England.
The thunderstorms will also be capable of producing heavy downpours, which might trigger some areas of flash flooding because soils remain very wet across the region.
NOAA's Weather Prediction Center has highlighted areas from the Tennessee and Ohio valleys to the Northeast for a slight risk (level 2 out of 4) of excessive rainfall through Wednesday night.