Severe storms with tornadoes, damaging winds and flash flooding threaten South
Tornadoes have the potential to be strong on New Year's Day
Severe storms could produce tornadoes, damaging winds, large hail and flash flooding in the South New Year's weekend as a strong cold front tracks across the region.
Saturday morning, a large area of thunderstorms and heavy rain will likely stretch from parts of North Texas into Arkansas, Tennessee and Kentucky, and some of the storms could be severe with damaging wind gusts and a few tornadoes.
A squall line of severe thunderstorms is then expected to march eastward through New Year's Day from Arkansas and northern Louisiana into portions of Kentucky, Tennessee, Mississippi and Alabama. The severe storms will reach the western Appalachians and parts of Georgia, Alabama and the western Florida Panhandle by Saturday night.
NIGHTTIME TORNADOES FAR MORE LIKELY TO TURN DEADLY THAN THOSE DURING THE DAY
The region from the Deep South into the Tennessee Valley, shaded in the darkest red on the map below, likely has the greatest threat of severe weather on the first day of 2022.
All severe weather hazards are possible on New Year's Day, including tornadoes – a couple of which may be strong – damaging wind gusts and large hail. Flash flooding is also a significant threat in the South because the ground is saturated after multiple rounds of soaking rainfall.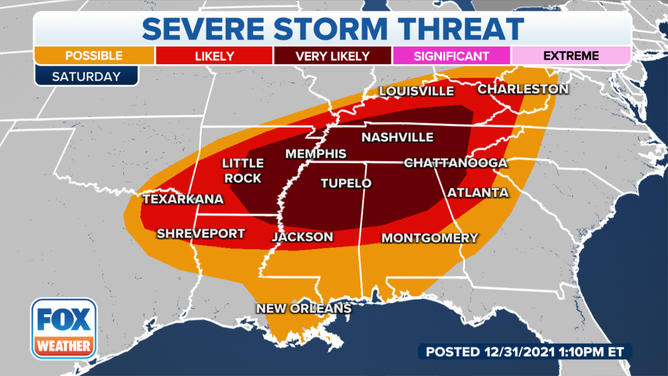 The severe weather threat should begin to diminish on Sunday, especially later in the day, but a few severe thunderstorms are still possible in parts of the Southeast before the cold front sweeps off the East Coast.
If you are in any of the areas at risk for severe storms this weekend, make sure you have severe weather alerts turned on in your FOX Weather app so you can receive potentially life-saving warnings issued by the National Weather Service. Additionally, be sure to turn on government alerts in your smartphone settings and charge your battery before severe weather threatens.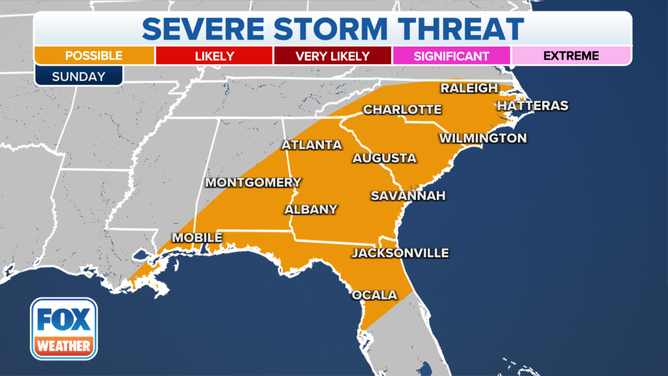 If you have a NOAA weather radio, you'll want to ensure it has fresh batteries and keep it turned on, including by your bedside before you go to sleep Friday and Saturday nights.
WHAT YOU SHOULD DO TO PREPARE FOR TORNADOES
Flash flooding also a concern
As if the severe thunderstorms weren't enough, there's also a risk of heavy rain and flash flooding from the South to the Ohio Valley New Year's weekend.
The highest flash flood threat on New Year's Eve will extend from southeastern Oklahoma and far northeastern Texas into the lower Ohio and Tennessee valleys.
The flash flood threat will increase for New Year's Day. Significant flash flooding is possible from northern Arkansas into southeastern Missouri, northwestern Tennessee, far southern Illinois and Indiana, much of Kentucky, far southern Ohio and southwestern West Virginia.
EXPLAINING FLOOD ALERTS ISSUED BY THE NATIONAL WEATHER SERVICE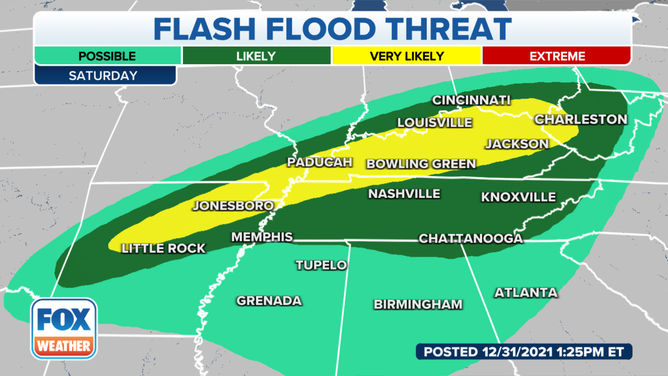 Between 2 and 4 inches of rain is likely in the region shaded in yellow on the map above. Isolated rainfall totals as high as 6 inches are possible where thunderstorms repeatedly develop over the same areas.
At least an inch of rain is expected over a broader area from the Ohio Valley into parts of the South through Saturday, with locally higher amounts possible in any heavier downpours.