Severe storms, tornadoes in South on Sunday to Monday
Large hail, damaging winds and flooding are also possible from this system
Cool, dense air behind the Southern Plains cold front pushes up against the lighter, moist Gulf air with explosive results.  FOX Weather Meteorologists have been tracking isolated severe thunderstorms and tornadoes Sunday night along and ahead of the front.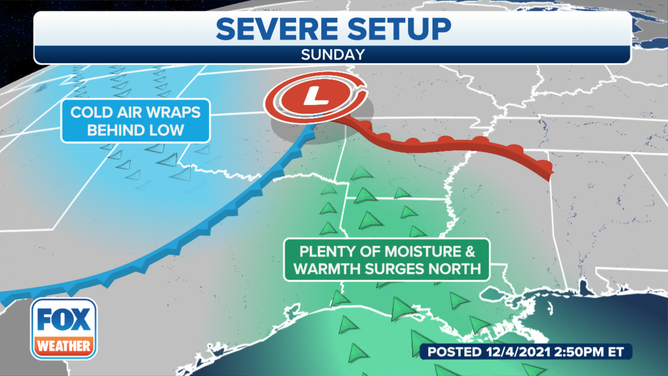 The National Weather service in Memphis used radar to identify a tornado 9 miles southwest of Lexington, Tennessee with quarter-sized hail moving northeast at 30 mph Sunday evening.
A Chester County official reported a funnel cloud over the Middlefork Community. That is just one county away from FOX Weather's Will Nunley. He will bring us a live report on a Second Tornado Season Monday.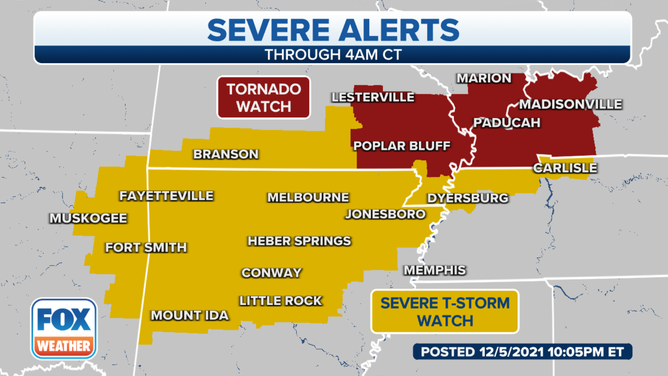 Tornadoes remain a concern overnight for Southeast Missouri, Southern Illinois and Western Kentucky.  The threat for severe thunderstorms remains across northern Arkansas.
Through Sunday evening, the storm organized into line of thunderstorms from Tulsa past Paducah, Kentucky. FOX Futuretrack shows the organized line pushing into Alexandria, Jackson and Atlanta just in time for the morning commute.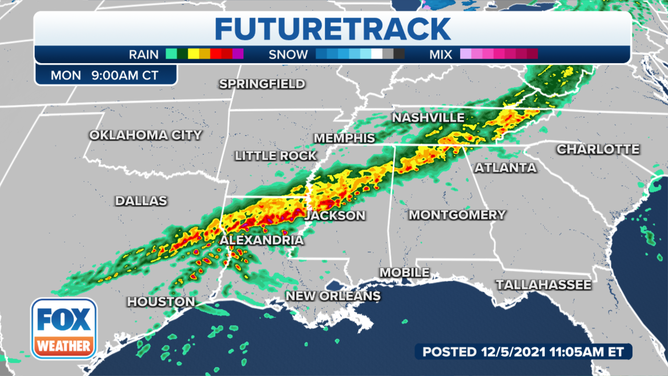 Thunderstorms are possible in Central Texas into Monday morning, but forecasters expect 35-45 mph wind gusts will be the primary concern.
Be sure to download the FOX Weather app to receive important weather alerts if any are issued in your area.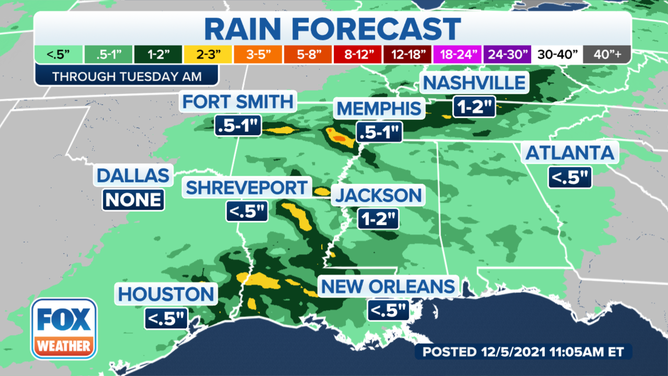 Several inches of rain are also possible across the southern United States over the next few days. Some parts of eastern Texas could pick up 3-5 inches of rain. Central and southern Louisiana could also see a few inches of rain while the system continues to move east.