Severe storms across northern Rockies Friday will spread east into the weekend
Severe Thunderstorm Watch issued for central Montana until 7 p.m.
BILLINGS, Mont. – Severe thunderstorms are set to get a grand tour of Montana and neighboring states Friday, perhaps bringing an active end to the workweek.
Thunderstorms are expected to begin bubbling up in western Montana around midday and then trek east across the state into the evening, perhaps reaching western North Dakota by late evening.
"Through the afternoon and into the evening through some breaks of sunshine we're going to see the likely possibility of thunderstorms developing, and some of which will be severe," says FOX Weather meteorologist Jane Minar.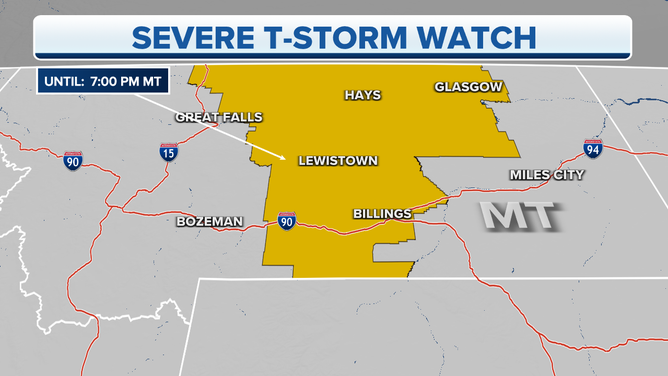 Aside from the usual frequent lightning and heavy rain, these storms are carrying the potential for damaging wind gusts, especially across central and eastern Montana, as well as large hail.
NOAA's Storm Prediction Center issued a Severe Thunderstorm Watch for parts of Central Montana from 12:30 p.m. to 7 p.m. MDT. The primary threats will include damaging winds with isolated gusts up to 75 mph and large hail up to 1.5 inches. 
GET THE FOX WEATHER UPDATE PODCAST
Severe Weather Outlook for Friday
(FOX Weather)
---
A lesser threat of severe weather extends into northern Wyoming and western South Dakota.
LIGHTNING CHASER SHARES OUT TO CAPTURE NATURE'S FURY ON CAMERA 
On Saturday, a marginal risk of severe thunderstorms moves into the Dakotas, spreading south into Nebraska and northern Kansas.
"We are expecting thunderstorms to pick up from Grand Forks down into Kansas City. And as we get into Saturday afternoon, places like Bismarck will see those storms," Minar said. "Remember it is going to be very hot this weekend and all that heat is going to be firing up these storms – albeit isolated."
Severe Weather Outlook for Saturday
(FOX Weather)
---
WATCH: NATURE'S FIREWORKS - SOME OF OUR FAVORITE LIGHTNING VIDEOS
Again, the primary threat remains a few damaging wind gusts or bouts of large hail. Tornado threats are minimal. 
Be sure to download the FOX Weather app to track any storms in your area and receive potentially life-saving weather alerts issued by the National Weather Service. The free FOX Weather livestream is also available 24/7 on the website and app and on your favorite streaming platform. The FOX Weather Update podcast also provides weather information for the entire country.