'Extreme' atmospheric river fueling threats of flooding, avalanches in Pacific Northwest this week
Monday was Seattle's 10th-wettest day of all time and its third-wettest February day
A series of Pacific low-pressure systems, first fueled by an "extreme" atmospheric river, are expected to bring more rain and mountain snow from the Pacific Northwest to the northern Rockies through the end of the week.
The National Weather Service has issued Flood Watches and Warnings across western Washington, and northern Idaho, where there are significant threats of flash flooding, river flooding and avalanches into midweek.
WHAT DOES A 'CATEGORY 5' ATMOSPHERIC RIVER MEAN? SCALE AIMS TO RATE NATURE'S LARGEST SOAKERS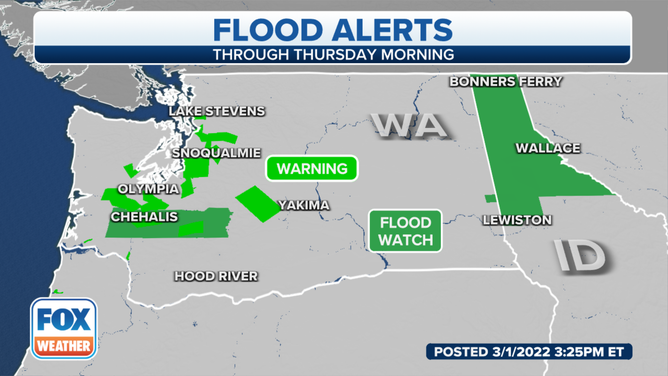 The system that impacted the region Monday brought 2.97 inches of rain to Seattle, making it the city's 10th-wettest day of all time and its third-wettest February day. More than a dozen rivers in Washington were under Flood Warnings as of early Tuesday morning following the combination of heavy rain and snowmelt across the state.
Monday's deluge also triggered a rockfall south of Oregon City, Oregon, where a tractor-trailer was damaged on Oregon Route 99E at milepost 13, according to the Oregon Department of Transportation.
RECORD-BREAKING RAINFALL BRINGS FLOODING TO PACIFIC NORTHWEST
Stevens Pass and Snoqualmie Pass in the Washington Cascades were both closed Monday morning due to heavy snow and the danger of avalanches in the mountains. Stevens Pass later reopened by 11 a.m. Monday, followed by Snoqualmie Pass about 5 p.m. Monday.
As the low-pressure system nudges closer to the Pacific coast on Tuesday, milder air from the ocean is forecast to surge northward through the Pacific Northwest, leading to a gradual increase of snow levels in the mountains. Any snow on Tuesday should be confined to the highest mountain peaks near the Canadian border.  
WHAT'S THE DIFFERENCE BETWEEN A SNOW LEVEL AND A FREEZING LEVEL?
Although the precipitation is expected to become less intense on Tuesday, this system will keep the weather unsettled into Wednesday as Pacific moisture continues to be directed toward the Northwest coast. As snow levels increase, the combination of heavy rain and melting snow will keep flooding concerns high for the next few days across portions of the Pacific Northwest.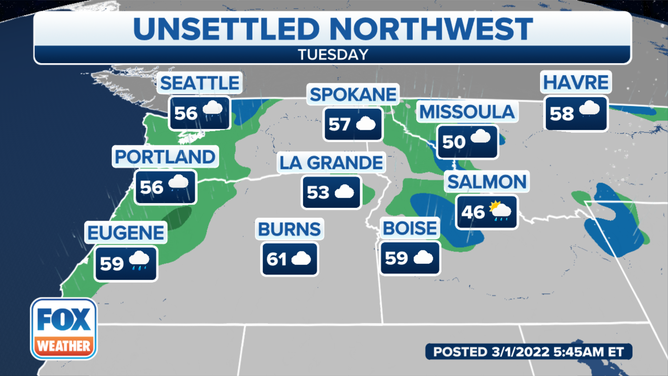 The Skokomish River near Potlach, Washington, was in moderate flood stage as of Tuesday morning. At this level, deep and fast-moving floodwaters from the Skokomish River will inundate some residential neighborhoods in the Potlach area, according to the NWS. Additionally, many roads, as well as much of the farmland in the Skokomish Valley, will become inundated.
Following closely behind this round of early-week precipitation, a cold front will slowly slide across the Pacific Northwest and Northern California Wednesday into Wednesday night, bringing another round of rain and high-elevation snow to the region.
'TURN AROUND, DON'T DROWN': FLOOD FATALITIES IN U.S. HIT 5-YEAR HIGH IN 2021
The heaviest additional rainfall will target coastal areas from Washington to Oregon, where another 1 to 3 inches of rain is expected through this weekend on top of what has already fallen.
This next system will also bring additional snow farther inland across northern Idaho and northwestern Montana for the next couple of days.