Hear the mysterious boom that rattled South Carolina on Tuesday
Sonic booms can be created by a variety of human-made and natural events. These loud events are similar to thunder but are triggered when an object moves faster than the speed of sound.
CHARLESTON, S.C. – Residents of South Carolina were treated to a surprise Tuesday morning as a loud boom made its presence felt and heard throughout the state.
A Nest Doorbell camera outside a home in Mount Pleasant captured the loud event on video just after 8:40 a.m.
The South Carolina Emergency Management Division received reports from Greenville, Columbia and Charleston regarding the loud noise and reached out to several agencies to figure out what was responsible.
"Getting several questions about a large boom/rumble in the Charleston area earlier this morning," emergency management officials posted on Twitter. "We have no reports of any earthquakes at this time. We're working to determine the source."
SONIC BOOM: HEAR THE SOUNDS OF A METEOR BREAKING UP OVER UTAH
Previous booms that have been reported in the state have been caused by earthquakes or even spacecraft reentering Earth's atmosphere for an eventual splash down in the western Atlantic, but neither of those scenarios appeared to be responsible for Tuesday's event.
The U.S. Geological Survey did not report any substantial seismic activity in the Palmetto State, and NASA isn't slated to welcome home astronauts from the International Space Station until early June.
This led residents and authorities to question whether the boom was connected to a military training exercise that the U.S. Coast Guard warned about north of Charleston.
The alert read: "Joint Base Charleston will be conducting explosive operations at Wharf Alpha on the Cooper River in Goose Creek, SC from May 22, 2023, to May 28, 2023. Mariners are advised a Naval Vessel Protection Zone exists around all U.S. Naval Vessels greater than 100 feet in length. Mariners are urged to use caution while transiting the area."
But, according to a Coast Guard spokesperson, the event has them just mystified as others and did not directly link the training activity to the boom.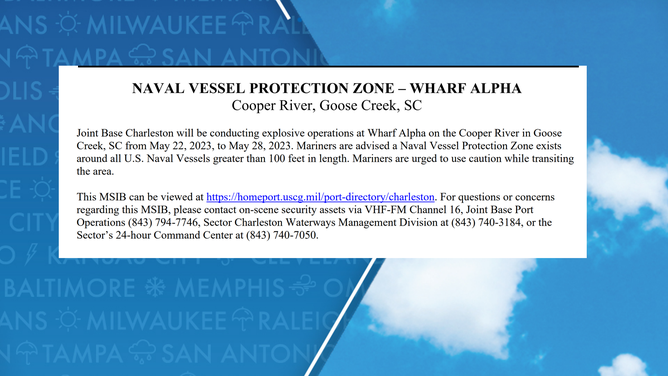 SONIC BOOM HEARD OVER SOUTHEAST AS SPACEX CAPSULE SPLASHES DOWN OFF
The ruling out of potential causes leaves open the possibility that a meteor could be behind the brief rumble.
Fireballs have previously triggered sonic booms and are often difficult to detect.
Experts said it is not unusual for a meteor to create a sonic boom as it breaks apart and slows down in Earth's atmosphere, but even seven hours after Tuesday's event, there have not been any solid clues that point to a space object as being responsible.
The American Meteor Society has not reported any witness accounts in the Southeast of a fireball. So far, forecasters have not spotted any indications on satellite that one streaked through the sky. 
South Carolina emergency management said it'll continue to look into the event and share any new information that arises.