Santa Ana winds in Southern California fueling fire threat, power outages
Red flag warning continues into Friday evening for most of Southern California
LOS ANGELES – Strong Santa Ana winds are driving dangerous fire weather conditions across southern California and causing power companies to shut off the power for thousands of homes.
A Fire Weather Warning remains in effect through Friday evening as winds between 20 and 40 mph continue and are expected to decrease Saturday and Sunday.
However, the humidity will remain low into the weekend between 2 and 10 percent in the valleys and mountains. It's possible the red flag warning may be extended into the weekend for the Ventura Valley, Santa Clarita Valley and the interior mountain areas. 
Santa Ana Winds are the blustery, dry and warm wind that blows out of the desert named for Southern California's Santa Ana Canyon. The winds bring hot, dry air from the east side of the mountain ranges, and if a fire sparks under these conditions, rapid fire spread is possible.
LEARN: What are the Santa Ana and Diablo winds?
According to the NWS, of the 575 monitoring stations across California, 45 reported red flag conditions as of Friday morning, which improved 24 hours earlier when the NWS said 218 observations sites in red flag warning across Ventura and Los Angeles Counties.
On Thursday, the windiest spot was Browns Canyon, with an 89 mph gust. The winds are expected to decrease throughout the day Friday, but the fire threat remains.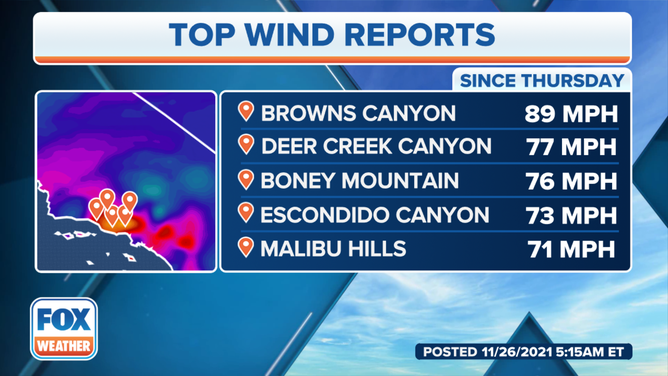 Friday morning, the National Weather Service in Los Angeles reported gusts had surpassed 70 mph in some areas.
Deer Creek Canyon had the peak measurement at 77 mph, with Boney Mountain at 76 mph. Escondido Canyon and Malibu Hills monitoring stations also reported winds above 70 mph in the past 6 hours. 
Preventative power outages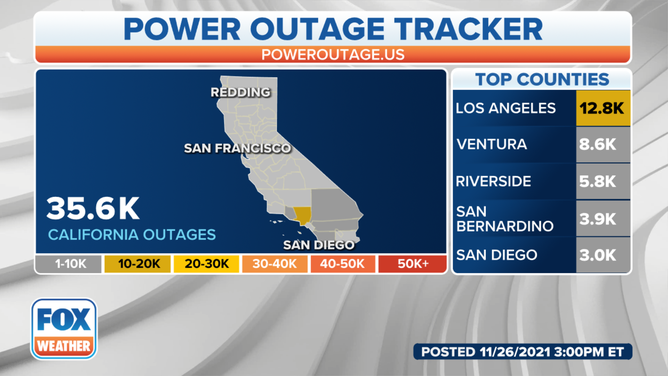 Due to the strong winds, power companies cut power to homes Thursday in Orange County to prevent a possible spark. Companies reported more than 89,000 outages across Riverside, Los Angeles, Ventura, San Bernardino and Orange counties.
As conditions improved by Friday morning, those outages were down to 37,500.

San Diego Gas & Electric reports the weather was improving enough Friday that crews have begun inspecting systems. 
"We'll restore power as soon as possible to areas where winds have calmed with no damage," the company said in an update.
By late Friday morning, more than 3,000 were without power near San Diego, with the potential for 50,000 additional preventative outages, according to SDG&E's outage map.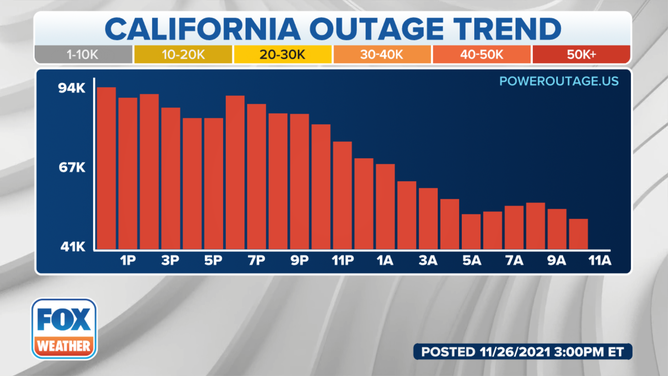 Southern California Edison reported more than 31,000 without power, the majority in Los Angeles and Ventura counties.
On Thursday, Santee Fire Department crews fought and stopped an 18-acre wildfire in Santee, which forced evacuation warnings for residents near Ramsgate Drive and Hillcreek Road.
Firefighters were still out Thursday night monitoring for potential hotspots. 
Fire crews remained vigilant on Thanksgiving to prepare for the fire threat. The Angeles National Forest firefighters stay at a high state of readiness during the red flag weather.