'Miraculous': Sanibel Causeway reopens to island residents for first time since Hurricane Ian
Sections of the only road to Sanibel Island were destroyed 3 weeks ago when Hurricane Ian slammed into Southwest Florida.
SANIBEL, Fla. – The only road to a popular Southwest Florida barrier island has reopened to residents for the first time since Hurricane Ian.
Ian crashed ashore Sept. 28 in the Fort Myers area as a Category 4 hurricane with 150-mph winds. Those powerful winds pushed ashore feet of water from the Gulf of Mexico that overran barrier islands that dot the shoreline.
Sanibel Island, loved by residents and tourists alike for its abundance of seashells, was among the places that were hardest hit by the storm.
A BIRD'S EYE VIEW OF THE DESTRUCTION ON SANIBEL ISLAND AFTER IAN
Sections of the Sanibel Causeway, which uses a series of bridges to connect the island to the mainland, were washed away. Boats and helicopters were the only way to reach the island in the immediate aftermath of Hurricane Ian, which complicated rescue and recovery efforts.
Temporary repairs to the causeway allowed for a convoy of utility and supply trucks to make it to Sanibel last week, allowing repairs to the island's crippled infrastructure to begin.
FEARING DEATH, PRAYING FOR A MIRACLE: SANIBEL ISLAND WOMAN SURVIVES IAN'S HISTORIC WRATH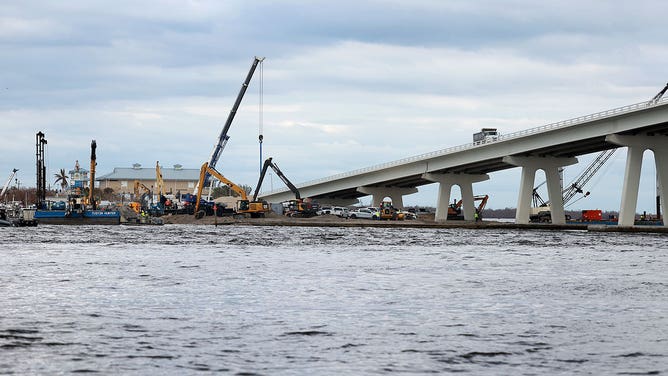 Florida Gov. Ron DeSantis said Wednesday that residents will be allowed to traverse the temporary bridges to Sanibel Island for the first time since the storm.
"Today, I'm happy to report that starting at 11 a.m., the causeway will be reopened for the citizens," DeSantis said at a news conference.
The governor said crews have been working around the clock since the storm to reopen the vital thoroughfare, employing dozens of pieces of construction equipment, dive teams and tons of dirt, rock and asphalt.
"These repairs, while temporary, are really going to help get the residents of this island back on track," DeSanits said.
Sanibel Mayor Holly Smith said the causeway is only open to people who have a pass to get back on the island.
"There's still going to be a checkpoint where people can come in, because we want to make sure that people who are getting in are the people who need to see their homes," Smith said.
Smith said the causeway is the lifeblood of the island and restoring it just a few weeks after Hurricane Ian demolished it has renewed residents' faith in the recovery efforts.
"It is nothing short of miraculous," Smith said.
According to the governor, the state will work with Lee County to permanently repair the bridges.