Caught on video: Hikers narrowly escape massive rockslide in Colorado park
Rocky Mountain National Park usually sees around 4 million visitors each year
ESTES PARK, Colo. – Hikers at Colorado's Rocky Mountain National Park say they are lucky to be alive after coming face-to-face with a massive rockslide on Tuesday.
William Mondragon was with a group of friends in Upper Chaos Canyon when he said he heard boulders crashing down from rock formations above them.
"We ran for our lives. The boulder we were climbing was covered in debris. We could have been killed," Mondragon told news gatherers at Storyful.
The hiker captured the event on video where rocks cascaded down the mountain slope- a scene that resembled the flow of a waterfall but made up of entirely of boulders and rocks.

HOW TO WATCH FOX WEATHER ON TV
The National Park Service says the area is popular for bouldering, where climbers can attempt to scale rock formations without the need for harnesses.
Rangers are unsure of what caused the rockslide but do say the park recently saw rain that could have contributed to the loosening of rocks. 
Parts of the park were shut down immediately following the incident and will remain closed until geologists can determine the stability of the slope around Hallett Peak.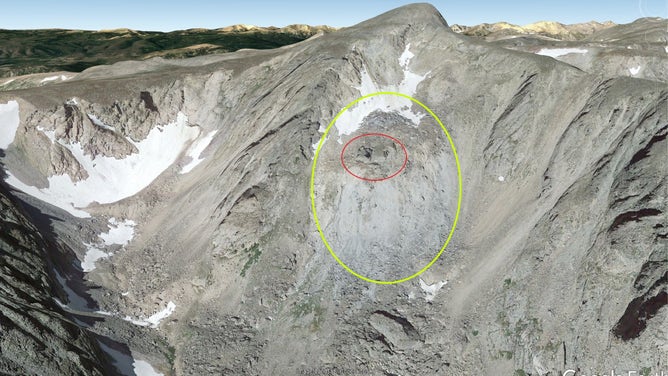 Mondragon said even with no warning, his group was able to escape without injuries.
7 WEATHER EXTREMES EXPERIENCED AT NATIONAL PARKS
Potentially heavy rainfall is in the forecast through the weekend, which rangers warn could cause additional rockfall activity.
Every year more than 4 million people visit Rocky Mountain National Park, and can explore more than 350 miles of hiking trails.

The park is home to Pikes Peak, a 14,115-foot summit that is one of Colorado's most popular destinations.
The park advises visitors who venture off hiking paths into rocky areas to use caution.
Rangers say rocky slopes on or near mountain peaks can be the most unstable.