River flooding across the Ohio Valley prompts water rescues
Rain is melting snowpack and flooding rivers
VERMILION, Ohio – Water rescue teams were busy Wednesday in downtown Vermilion after heavy rains melted snowpack, quickly flooding the Vermilion River.
Water was rising on Riverside Drive, quickly prompting residents to evacuate. Vermilion Fire Department water rescue teams were positioned around the river Thursday.
An ice jam then broke up, which quickly released the dammed water. Banks and low-lying roads downriver were inundated.
WHAT IS AN ICE JAM AND ARE THEY DANGEROUS?
The Flash Flood Warning for Vermilion was allowed to expire, but much of the Ohio Valley is under flood alerts through Saturday. 
The area received 1 to 2 inches of rain on top of the lingering snow on the ground. The combination will overwhelm many rivers, which are forecast to crest Friday and Saturday. Over 150 flood gages are forecast to flood over the next few days from the mid-South to New England.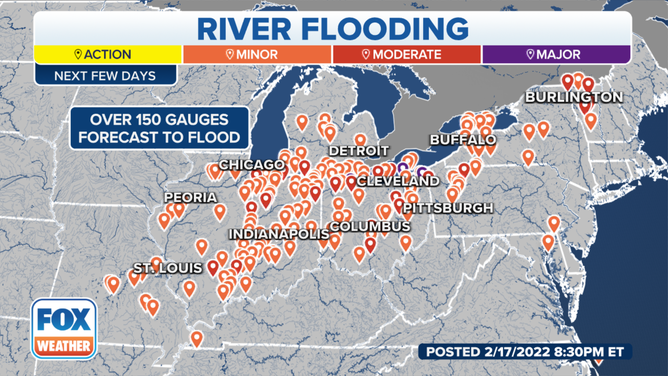 The Cuyahoga River near Independence, Ohio, is forecast to crest Friday and flood the village of Valley View, according to the National Weather Service.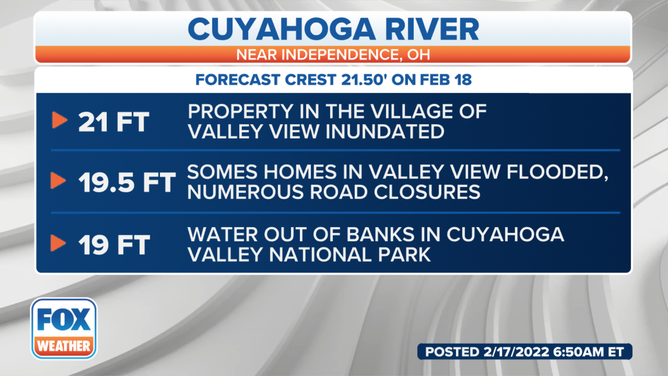 Officials closed several trails along the river in the national park due to flooding already.
Tributaries to the Cuyahoga are swollen as well. Look at the rushing water over Mill Creek Falls in Cleveland Thursday afternoon.
Rains changed to snow in northern Ohio, but rain won't taper off for the southern part of the state until Friday.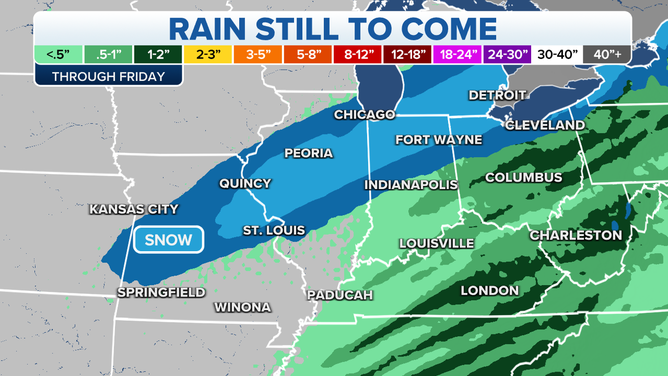 Many neighborhoods across the Midwest flooded Thursday. The scene in Troy, Michigan, looked similar to the one near St. Louis.
Police and fire departments took to social media asking drivers to not drive through floodwaters.