Report: Space heaters a leading cause of house fires in US
At least 17 people were killed, including 8 children, at an apartment fire in the Bronx on Sunday when a space heater malfunctioned
A report from the National Fire Protection Association shows space heaters are a leading cause of fires that have broken out at homes in the United States.
The report, which was released in January 2021, says fire departments across the country responded to an average of 48,530 fires at homes involving heating equipment between 2014 and 2018, which resulted in an estimated 500 civilian deaths, 1,350 injuries and $1.1 billion in property damage.
On Sunday, at least 17 people were killed, including eight children, at an apartment fire in the Bronx in New York City when a space heater malfunctioned and caught fire.
Investigators initially said 19 people, including nine children, had died, but that number was revised on Monday.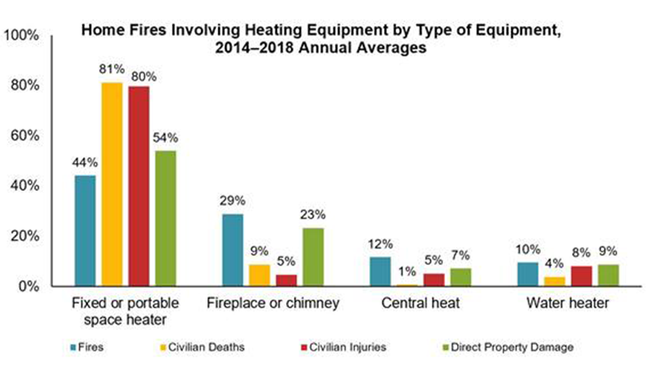 According to the NFPA report, space heaters were most often responsible for home heating equipment fires, accounting for more than two in five fires, as well as the majority of deaths and injuries in homes caused by heating equipment fires.
Space heaters were also responsible for more than half of the property damage, according to the report.
"Over half (54%) of the home heating fire deaths were caused by having heating equipment too close to things that can burn, such as upholstered furniture, clothing, mattresses or bedding," the report said.
Nearly half of the fires occurred in December, January and February.
And while fires caused by heating equipment were less likely to occur between the hours of midnight to 8 a.m., that time period accounted for nearly half of all fatalities, according to the report. Most of the fires occurred between 4 p.m. and 8 p.m. but accounted for a smaller number of injuries, fatalities and damage.