Remnants of Ida pose life-threatening risks of flooding and tornadoes in the Northeast
The region is highlighted for a rare 'high risk' of excessive rainfall through early Thursday
Heavy rainfall from the remnants of Ida will pose life-threatening risks of flooding and tornadoes in the Northeast on Wednesday.
NOAA's Weather Prediction Center has highlighted an area from northeastern West Virginia to western Rhode Island (the pink-shaded contour above) for a rare "high risk" of excessive rainfall through early Thursday. This is the highest risk level that can be issued by the WPC, so it should be taken very seriously.
High risks are only issued on about 4% of days (including tropical and non-tropical events) and account for 41% of flood-related fatalities and 92% of flood-related damages, according to research by WPC meteorologists.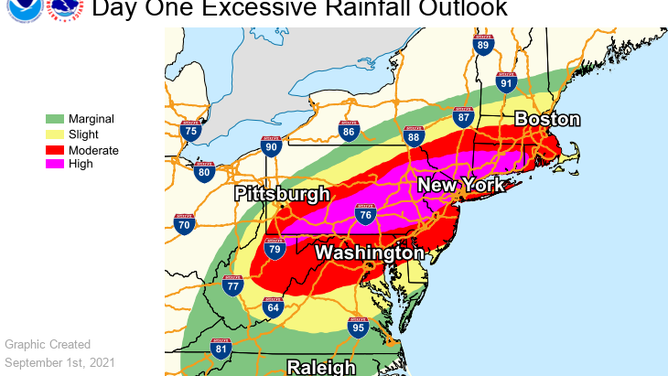 Flood and Flash Flood Watches are in effect from portions of the central Appalachians into the mid-Atlantic, southern New York and southern New England.
Areas from the mid-Atlantic to southern New England are predicted to receive 3 to 8 inches of rain, with locally higher amounts, through Thursday.
The highest rainfall totals are expected over parts of central and eastern Pennsylvania, northern New Jersey, the Hudson Valley, Connecticut, Rhode Island and southern and central Massachusetts.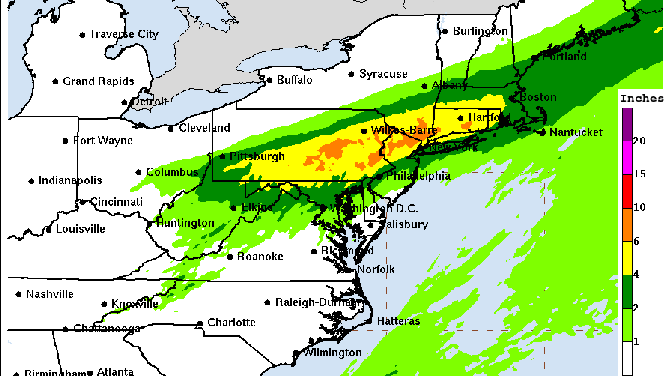 "Significant and life-threatening flash flooding is likely from the mid-Atlantic into southern New England, especially across highly urbanized metropolitan areas and areas of steep terrain," the WPC said in its 11 a.m. Eastern advisory on Ida. "Widespread moderate and major river flooding impacts are forecast from northern West Virginia and western Maryland into southern Pennsylvania and New Jersey, particularly in the Monongahela, Potomac, Susquehanna, Delaware, lower Hudson and coastal Connecticut River basins."
Additionally, NOAA's Storm Prediction Center has highlighted an area from southern New Jersey and southeastern Pennsylvania into Delaware, Maryland and northwestern Virginia for an "enhanced risk" (level 3 out of 5) of severe weather on Wednesday. This includes the cities of Philadelphia, Baltimore and Washington.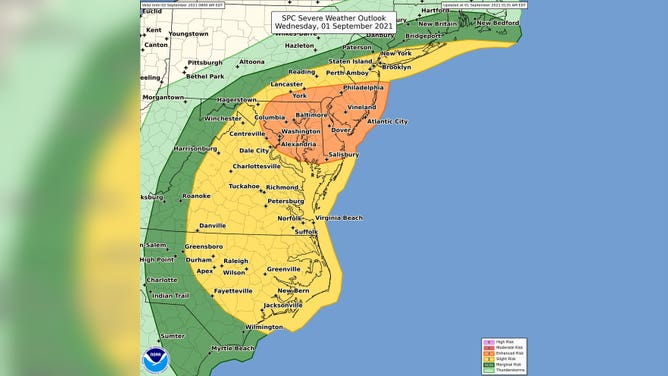 "Several tornadoes and scattered damaging winds appear probable across parts of the mid-Atlantic states as the remnants of Ida move through the region into this evening," the SPC wrote in its discussion Wednesday afternoon. "The greatest tornado threat is expected from central Maryland to southern New Jersey."
One meteorologist at the National Weather Service office in Mount Holly, New Jersey, noted that Wednesday could arguably be the most active weather day of the year for the mid-Atlantic region.
Tornado Watches are in effect into Wednesday evening along the Interstate 95 corridor from New Jersey and southeastern Pennsylvania southward into Virginia and northeastern North Carolina. These include the cities of Philadelphia, Baltimore, Washington, Richmond and Norfolk, Virginia.