Record warmth expected across US this week
More than 100 records could be tied or broken this week
It's not going to feel much like mid-December for many people across the country this week as more than 100 record-high temperatures could be tied or broken.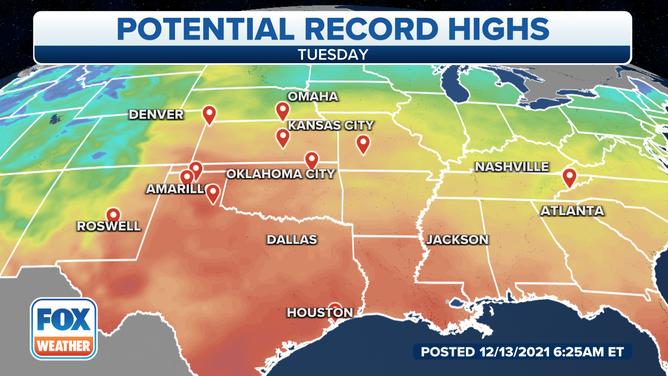 Several records are in jeopardy in areas from the Gulf Coast to the Plains starting on Tuesday.
Warm air will be settled across the region, and temperatures could be 20 to 30 degrees above average for this time of year.
On Tuesday, temperatures will be in the mid- to upper 70s across much of Texas.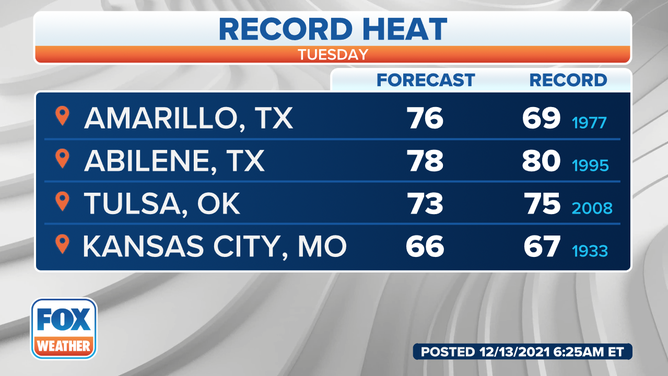 Amarillo, Texas, could shatter its old record of 69 degrees set back in 1977. It's expected to get to at least the mid-70s.
Other records in jeopardy stretch from Texas into Oklahoma and Missouri.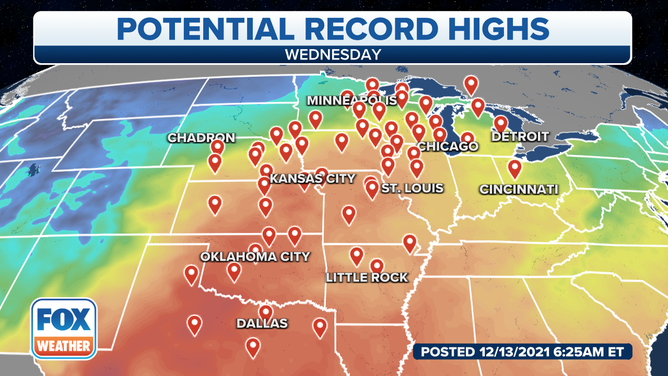 The warmer air shifts north on Wednesday, stretching from Texas into the Central and Northern Plains and into parts of the Great Lakes.
Temperatures in the 70s are expected from St. Louis and Kansas City, Missouri, into Des Moines, Iowa. 
The Chicago area is forecast to get into the 60s, and the same is expected for Indianapolis and Lexington, Kentucky.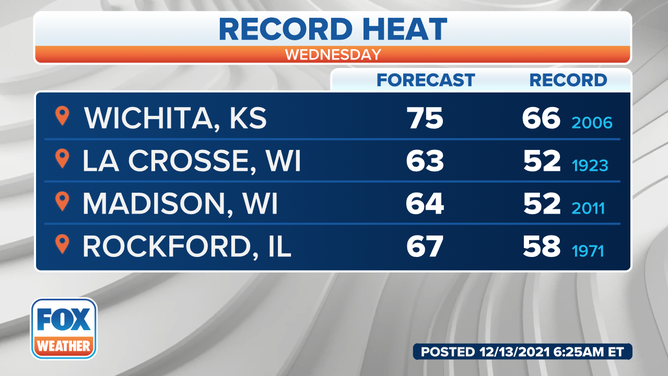 Records in Kansas, Wisconsin and Illinois could not only be broken on Wednesday – they could be shattered.
Wichita, Kansas, is forecast to get to at least the mid-70s on Wednesday, which would break their old record of 66 set in 2006.
A nearly 100-year-old record could be broken in La Crosse, Wisconsin, too. It's expected to get to 63 degrees Wednesday, which breaks the old record of 52 set in 1923.
Madison, Wisconsin, could also shatter its record of 52 degrees set in 2011. It's forecast to get to 64 degrees in that city.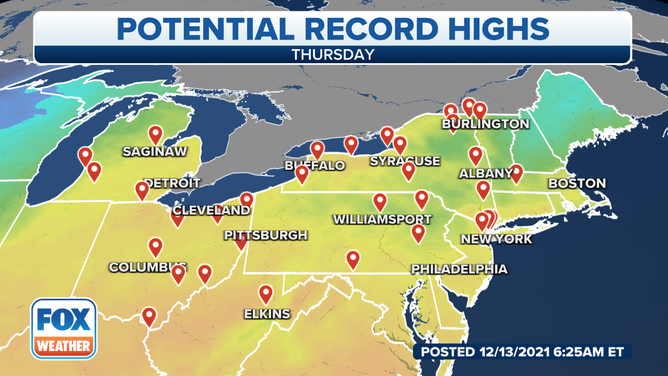 The warm air will shift again on Thursday – this time into the Northeast and mid-Atlantic.
Charleston, West Virginia, will soar into the upper 60s. Richmond, Virginia, and Washington will also get into the mid- to upper 60s.
The warmer air also stretches into the Northeast. New York City will be in the upper 50s, as well as Hartford, Connecticut, Providence, Rhode Island, and Boston.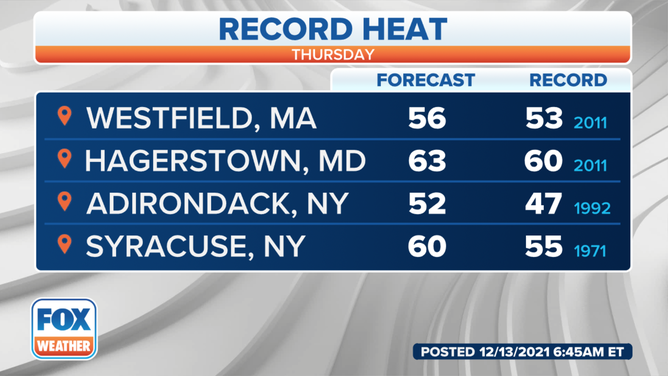 The records in jeopardy across the mid-Atlantic and Northeast won't be shattered like in the Plains.
Westfield, Massachusetts, is forecast to hit 56 degrees on Thursday, which would break its old record of 53 in 2011.
Hagerstown, Maryland, could also break its 2011 record of 60 degrees as that city could get up to 63 in the afternoon.