Record highs threatened in Plains on Tuesday before warmth shifts to Midwest, South and East
Nearly a dozen record highs might be in jeopardy on Tuesday
Record-high temperatures will be threatened from Texas to Nebraska on Tuesday before the unseasonable warmth shifts toward the Midwest, South and East Wednesday and Thursday.
A large ridge of high pressure over the Central and Southern Plains will push temperatures upwards of 10 to 25 degrees above average on Tuesday, making it feel more like September than the week before Thanksgiving.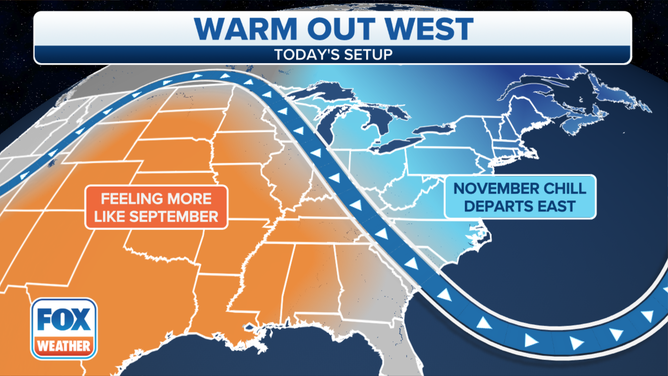 Texas will be the focal point for the record warmth on Tuesday, but daily record highs will be challenged as far north as Nebraska.
THE NATION'S FIRST HEAT WAVE RANKING PROPOSED FOR CALIFORNIA
A few Texas cities that could approach record highs Tuesday afternoon include Abilene (83 degrees), Amarillo (83 degrees), Childress (86 degrees), Lubbock (83 degrees) and San Angelo (84 degrees).
In Nebraska, Omaha (73 degrees) and Grand Island (77 degrees) might also threaten record-high temperatures on Tuesday.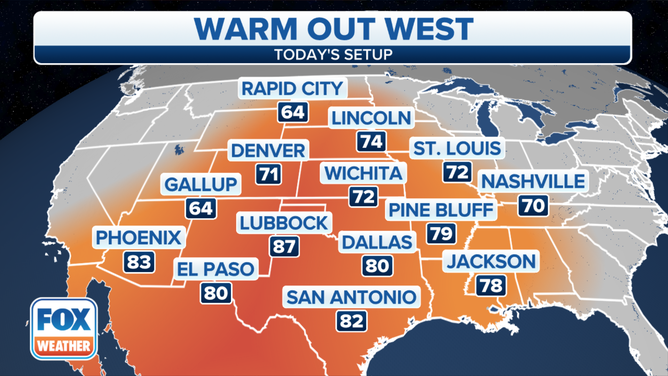 A cold front will bring cooler air back to the Central Plains on Wednesday and the Southern Plains by Thursday.
However, the above-average warmth will spread eastward toward the Midwest and South on Wednesday. High temperatures are predicted to climb into the 60s as far north as the Ohio Valley, with highs in the 70s expected across the South.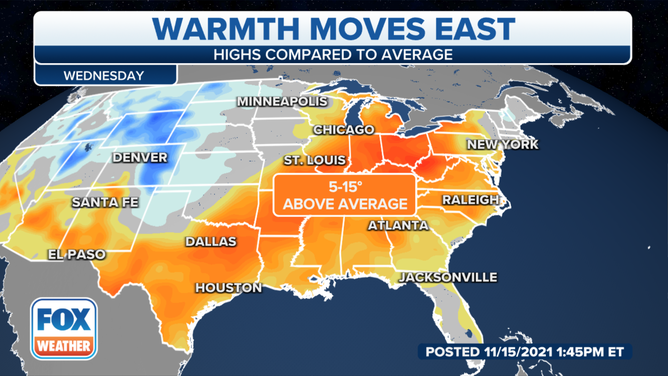 The warmer-than-average temperatures will reach the East Coast by Thursday as cooler air returns to the Midwest and parts of the South.
Highs are forecast to reach the 60s from central and southern New England to the New York City tri-state area on Thursday, while 70s should be widespread from Baltimore and Washington to the Southeast.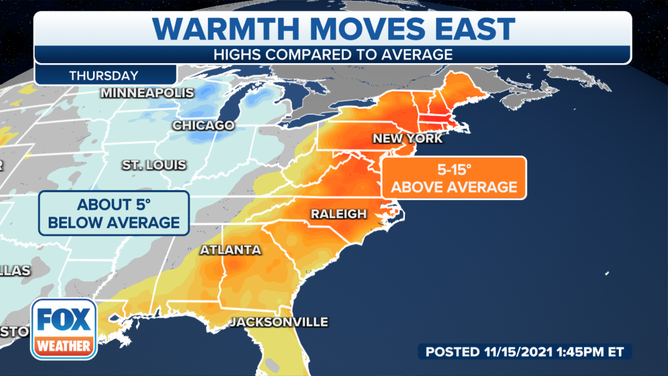 A cold front will sweep through the East late Thursday into Thursday night, sending temperatures back below average for the end of the workweek.