Record-breaking 6-inch hailstones pelt Australian state of Queensland
Hail in central Queensland, Australia, on Tuesday measured 6.3 inches in diameter
Giant hailstones over 6 inches in diameter pelted the Australian state of Queensland on Tuesday, setting a new record for the country.
The large hail fell in the town of Yalboroo, in the central portion of Queensland, as a severe thunderstorm impacted the region Tuesday afternoon.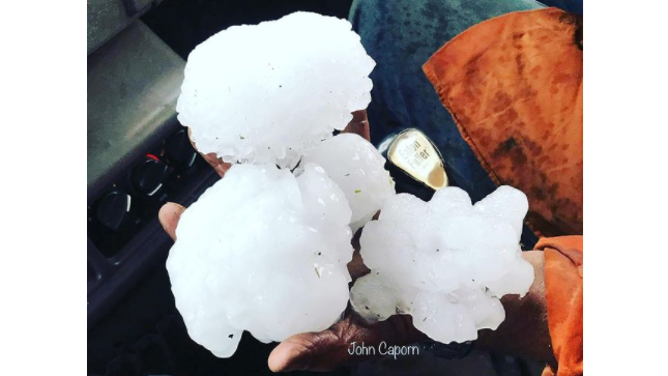 Australia's Bureau of Meteorology confirmed the hail in Yalboroo measured 6.3 inches (16 centimeters) in diameter. This broke the country's previous hail record of 5.5 inches (14 centimeters), set in south-central Queensland in 2020.
"The atmosphere was extremely unstable, which allowed hail to continue growing before gravity forced it to the ground," the BOM said in a tweet Tuesday evening U.S. time (Wednesday morning Australian time).
It should be noted that hail is notoriously underreported and difficult to reliably document because, unless it is immediately picked up and measured, it will melt before an accurate measurement can be performed.
That means larger hailstones could have fallen in Australia in the past, but they didn't get measured before melting into liquid.
For comparison, the largest hailstone ever recorded in the United States spanned 8 inches in diameter, measured in Vivian, South Dakota, on July 23, 2010.
That Vivian hailstone also ranked as the U.S.'s heaviest, weighing in at 1.94 pounds.
The heaviest hailstone in the world was a 2.25-pound stone in the Gopalganj district of Bangladesh in April 1986, according to the World Meteorological Organization's world weather and climate extremes archive.