Disturbance likely to become Hilary could mean problems for California next week
Models show moisture making its way into the Desert Southwest by Sunday. Come Monday, all of Southern California and Southern Nevada are in the juicy air.
Tropical Storm Hilary has formed in the Pacific. Continuous coverage of Hilary and its impacts to California, the Southwest have moved here. 
Whoever sang "It Never Rains in Southern California" hasn't met what is likely to become Hilary in the Pacific. The probable tropical newcomer could bring flooding rain to California and Arizona starting Sunday.
"The disturbance is currently offshore of Central America," said FOX Weather Hurricane Specialist Bryan Norcross. "The consensus of the computer forecast models is that it will become Tropical Storm and possibly Hurricane Hilary as it moves north, paralleling the Mexican coast. There's a fair chance that some version of the system could affect the Southland of California, even if it's just fringe moisture."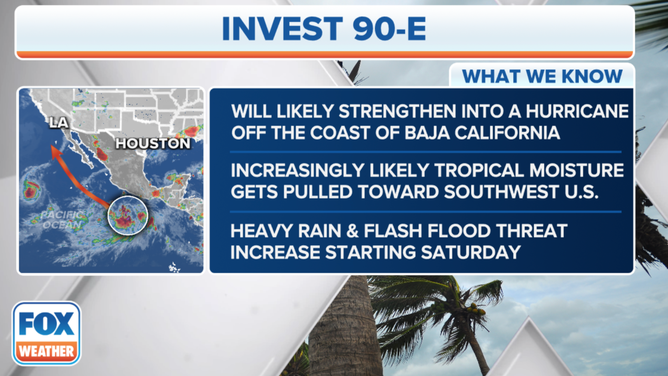 FOX Weather put together an animation that shows numerous models together. Take a look at the forecast paths of the disturbance that the National Hurricane Center gives an 80% of becoming a tropical depression in two days.
NEW AREAS IN ATLANTIC COULD FORM AS FORECASTERS MONITOR POTENTIAL TROPICAL DEVELOPMENT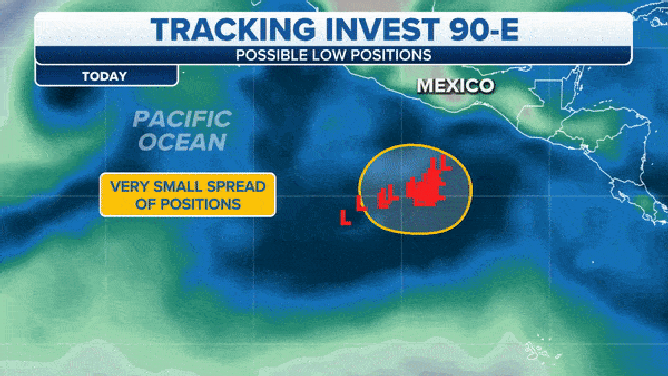 Models show moisture making its way into the Desert Southwest by Sunday. Come Monday, all of Southern California and Southern Nevada are in the juicy air.
Las Vegas, the Southern Sierra and the mountains east of Los Angeles and San Diego could see 2-3 inches of rainfall in a very short time with thunderstorms. That could lead to flash flooding. Las Vegas had only see 1 inch or more or rain in an August nine times, the last in 2012.
Los Angeles averages less than 0.01 inches of rain in August. But one forecast model shows more than a quarter-inch of rain falling from Hilary.
"Even a surge in tropical moisture can have a significant impact on Southern California," wrote Norcross. "The mix of tropical air and the mountains that crisscross the region can produce significant and dangerous flash flooding. It's too early to know what will happen, but everyone in SoCal should stay aware of the forecasts for the beginning of next week."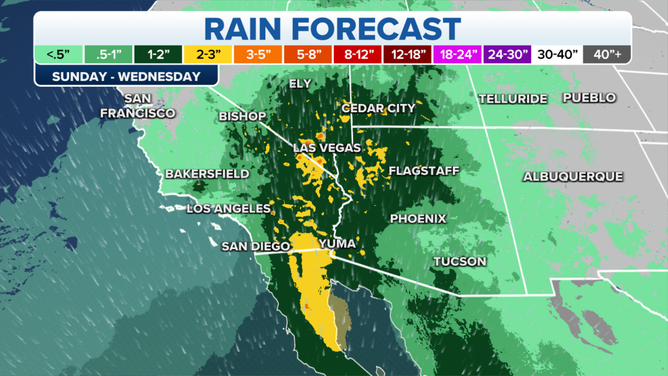 A tropical system making landfall in the Golden State is rare, but it has happened before.
"The Southern California climate record shows one hurricane, which hit San Diego in 1858, and a tropical storm that came ashore around Long Beach in 1939," Norcross wrote in his Hurricane HQ update Tuesday. "The 1939 storm caused widespread destructive flooding across the Southland. And Southern California had a fraction of the population that it has today. So we know it can happen, though it's always unlikely."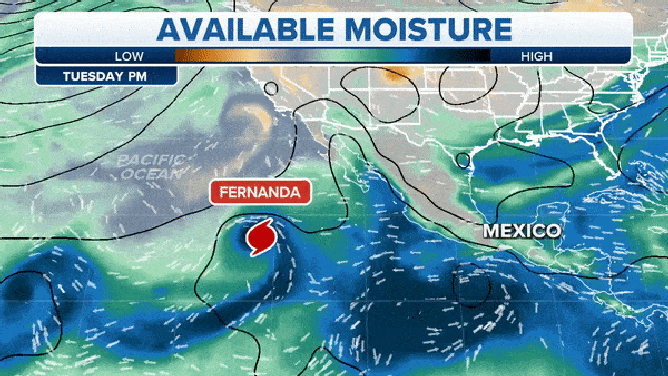 Tropical Storm Eugene
California saw rain with a tropical connection this week, as well. The remnants of Tropical Storm Eugene are sitting off the Southern California coast and pumping moisture into the state. The Lake Tahoe area saw measurable rain for the first time since June 22, according to the NWS.
Reno, Nevada, near Lake Tahoe, is having its second-wettest water year on record. Winter rain and snow clobbered the region with a parade of atmospheric river-fueled storms.