Rain, mild air moving into the Northeast before big temperature changes later this week
Record-high temperatures are in jeopardy of being broken across the Northeast on Wednesday
Temperatures were almost springlike across the Northeast on Tuesday. Early "spring showers" also fell across the region and won't wind down until Wednesday morning.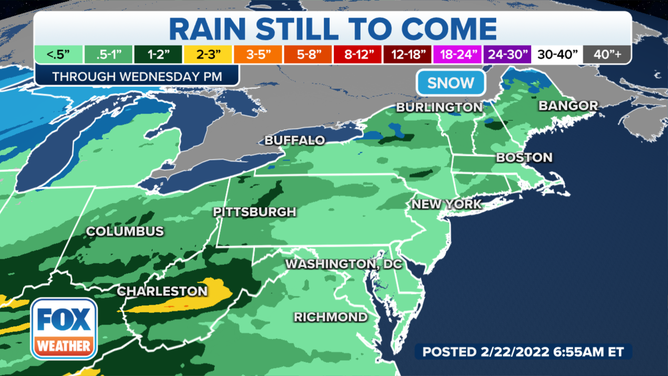 Parts of the Ohio Valley could pick up 2 to 3 inches of rain by the time the system moves out. 
EXPLAINING FLOOD ALERTS ISSUED BY THE NATIONAL WEATHER SERVICE
The Northeast will generally see rainfall totals between a half-inch and an inch, with some locally higher amounts in upstate New York and northern New England.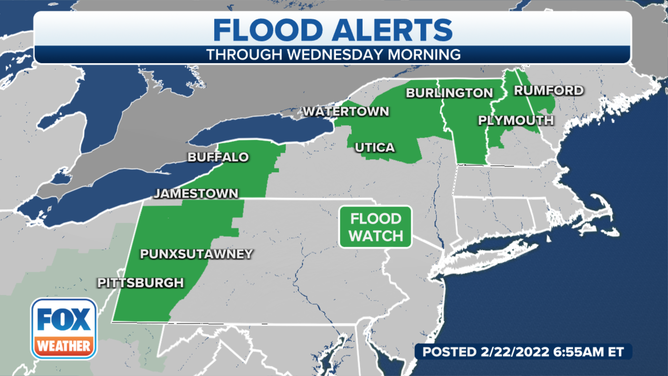 Flood Watches have been posted from the Pittsburgh, Pennsylvania, area northward into Jamestown and Buffalo, New York.
Other areas are also under a Flood Watch, including Watertown and Utica, New York, all of Vermont and northern New Hampshire.
Wednesday will be even warmer than on Tuesday, and several record-high temperatures are at risk of being broken.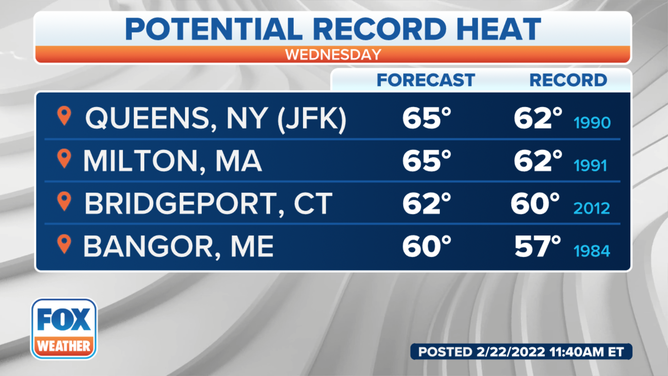 Washington could get close to 70 degrees during the day, and Richmond, Virginia, could be in the lower 70s. 
New York City is expected to be 10 degrees warmer than Tuesday, with a forecast high of 65 degrees.
Boston will be much warmer, too. Temperatures in southern New England could be in the lower to mid-60s, and some areas could get close to 70 degrees.
Bangor, Maine, will also see a dramatic temperature increase. It could be 20 degrees warmer than Tuesday. The city is expected to get to around 59 degrees.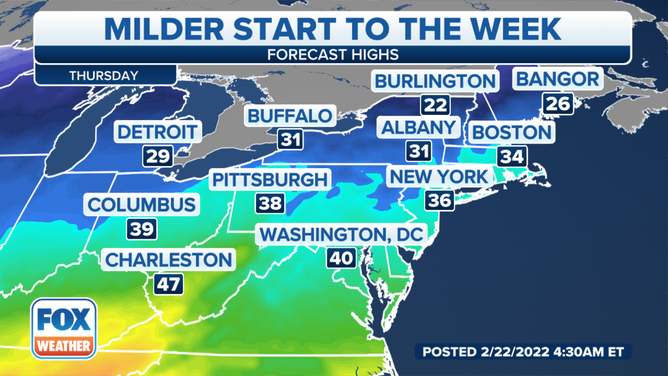 Significant changes to the temperatures will arrive starting Thursday.
Cold air from the Great Lakes region will begin to move into the Northeast and New England, dropping temperatures by nearly 30 degrees in many areas.
Bangor, Maine, and Burlington, Vermont, which were enjoying temperatures in the upper 50s on Wednesday, will drop to the 20s.
Buffalo and Albany, New York, will also fall below freezing, while Boston will see temperatures around 34 degrees.
New York City will be cold, too, with a forecast high of only around 36 degrees.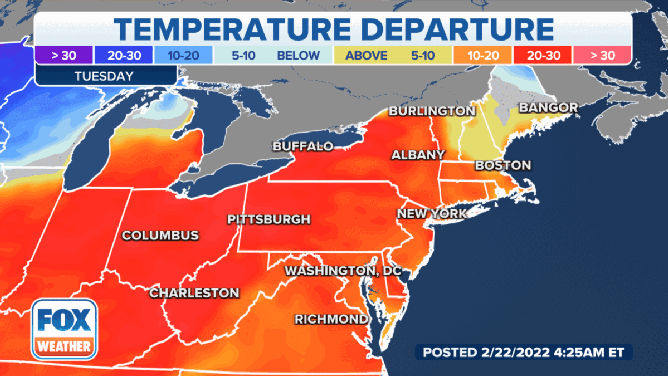 Temperatures in the Northeast will be well above average on Tuesday and Wednesday. 
Temperatures will be 20 to 30 degrees higher than average before cold weather moves back into the region on Thursday.