Puppy lost at sea in Alaskan shipwreck rescued after 2-day search
The 8-month-old spent 36 hours on her own between the bow of a ship, the breaking surf, and then the rocky shoreline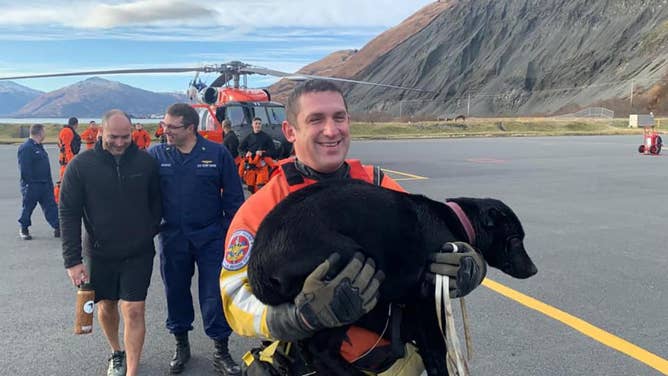 KODIAK, Alaska — Amazing "Grace," how sweet the sound. A puppy once lost near the sea has now been found.
After spending almost two days abandoned on an Alaskan cliff, 8-month-old Grace was rescued by the United States Coast Guard on Tuesday. The lab mix was presumed lost after her owner's crew abandoned their fishing vessel when it ran aground. The four-person crew, who were aboard the fishing vessel, safely boarded a life raft, but Grace had already jumped into the freezing water after the capsizing. 
She spent 36 hours on her own between the bow of the ship, the breaking surf, and then the rocky shoreline, the Coast Guard said. Weather conditions at the time of the wreck were reported to be 39 degrees with a 24-mph wind and less than 10 miles visibility.

After an extensive search, Coast Guard crew members aboard an MH-60 Jayhawk helicopter with the Air Station Kodiak spotted her near Black Point. Petty Officer 1st Class Rafael Aguero, a rescue swimmer, coaxed the puppy into his arms.
"She wagged her tail a little bit and told me that she was doing okay," Aguero said.
Grace was transported back to her owner, who was waiting at the air station.
"It was a happy moment to reunite the puppy with the owner," Aguero said.
The aircrews were also able to locate the fishermen with the assistance of a Good Samaritan fishing vessel. 
"We want to stress the importance of having proper survival gear on board in case of emergencies," Lt. Jacob Rettig, an Air Station Kodiak operations duty officer, said. "In this case, the crew had survival suits, flares, and strobe lights, which aided in locating and rescuing the crew safely and efficiently."
Attention is now turning to clean-up efforts of the stranded vessel. There were 4,000 gallons of diesel reported on board but so far there are no reports of any pollution. The vessel owners are working with a salvage crew to clean up the wreckage.
The Coast Guard will investigate how the ship ran aground.